Posted by Ben Golliver.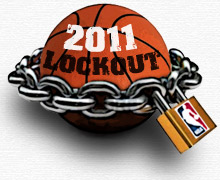 OK, they sued us. Now what?
Yahoo Sports reports
that the NBA's owners are ready to start planning their response to the disbanding of the National Basketball Players Association and two subsequent antritrust lawsuits filed by the players against the league earlier this week.
After lawyers for NBA players filed antitrust suits against the league in California and Minnesota, commissioner David Stern has a conference call set with owners on Thursday to discuss their next steps in the lockout, league sources told Yahoo! Sports.

The NBA's labor relations committee, which is responsible for negotiations with the players, scheduled the call earlier in the week, sources said.
One goal of the antitrust lawsuits was to create leverage for the players by bringing in the possibility of massive legal damages. The idea was that the legal filings might compel the owners to return to the bargaining table, this time negotiating with the players' new lawyers, with a more open mind and a willingness to offer concessions.
With the players missing their first paychecks on Tuesday and a January drop-dead date for saving a season, though, time will be the major factor in the owners' decision-making process, at least in the short-term.
Having essentially achieved $3 billion in revenue concessions and a host of system changes that are expected to ensure profitability, the owners would be foolish to walk away from the bargaining table for the foreseeable future simply because of the legal maneuverings the players made this week. Talks should, and almost certainly will, continue in some form prior to the NBA being forced to shut down its season.
The question for the owners becomes: When is the best time to get back to negotiating? After the players miss one paycheck? After they miss two paychecks? After the league is forced to cancel Christmas games so that the panic level and reality of the situation sets in? For the hard-line contingent, there's no rush. For the owners who want to play, getting the ball rolling in the short term would make sense. Remember, NBPA executive director Billy Hunter said "30 to 40" additional B-list issues still need to be agreed upon even if the two sides can reach a compromise on the revenue split and the outstanding system issues that led to this week's breakdown.
There are hours of talks ahead for these two sides. Thursday's meeting could provide an answer as to when those talks will begin taking place.