Posted by Ben Golliver.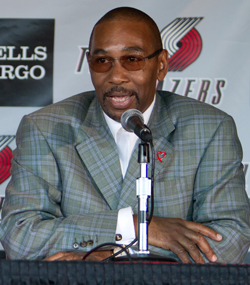 Shut it down.
The Portland
Trail Blazers
are reportedly halting their search for Rich Cho's replacement nearly six months after the team's former GM was abruptly fired back in May.
The Oregonian reports
that the Blazers don't think the search is worth it now that the players have filed antitrust lawsuits against the league.
According to an NBA source with knowledge of the Trail Blazers' thinking, the team has decided to "pause" their search for a new GM.

"There's been a decision to push the pause button on the search," the source said. "To go out and spend a bunch of money on a high-paying GM job doesn't make sense right now," the source said. "With what has happened the last week or so (in the lockout), it made a lot of sense to put the search on pause."

With the 2011-12 season in jeopardy, the money the Blazers would have spent on a new GM will instead go to protect jobs in the organization.
This development isn't all that surprising, as Portland's search has been muddled from the beginning and apparently stalled for several months now. The team never publicly expressed a clear set of criteria for their ideal candidate and generally refused comment throughout the summer. They were looking for an excuse to back out of the search. The lockout plus this week's legal develpments combines to provide perfect cover.
While Portland's decision is not a particularly positive sign that the NBA and its players will reach a new labor deal to save a portion of the 2011-2012 season, it's not necessarily a definitive indication that the season will be lost either. Back in September, after a round of interviews produced no clear favorites, team president Larry Miller
told CBSSports.com
that the Blazers were prepared to enter a post-lockout period without a new GM in place.
Blazers owner Paul Allen, the league's wealthiest owner, has reportedly emerged during the ongoing collective bargaining agreement as a staunch hard-liner and has advocated that the league address the disparity between its large-market and small-market teams. Miller said in September that none of the interviewed candidates had been forwarded to Allen for a second interview. Allen, a notoriously demanding owner, has fired two GMs -- Cho and his predecessor, Kevin Pritchard -- as well as former vice president of basketball operations Tom Penn in the last 20 months.