Posted by Royce Young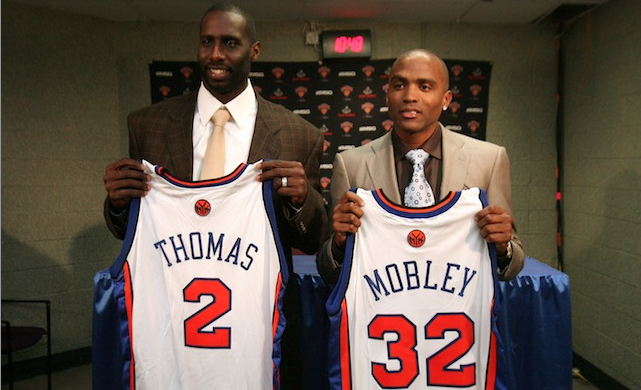 Former NBA guard Cuttino Mobley is suing the team that very may well have saved his life.
According to the New York Post
, Cuttino Mobley has filed a lawsuit against the
Knicks
after the team failed him in a physical because it revealed a potential life-threatening heart issue.
Mobley claiming the team "saved million" by sending him to a physician that "they knew would disqualify him from playing" due to a heart condition soon after trading for him in 2008.
The Knicks of course strongly denied these claims.
Mobley's lawsuit claims that he was first diagnosed in 1999 with a condition called hypertrophic cardiomyopathy -- a thickening of the heart wall -- and that he was thereafter "medically cleared every year, by every NBA team he played for, subject only to his signing a waiver of liability, until his arrival at the Knicks." The suit said "the Knicks were aware of his HCM condition when they agreed to take over his contract."

But, the suit said as a means to save about $19 million in league luxury tax payments and in insurance coverage for his inability to play, the Knicks selected two cardiologists to evaluate him, who were "both well-known opponents of allowing players with HCM to play."

Those doctors then "opined that Mobley should not play," the suit said.

"Mobley was forced and pressured by the Knicks to announce his retirement" in December 2008 -- without every playing a second for the squad -- the suit said.
Mobley claims the Knicks failed him intentionally to keep from paying the luxury tax and also to clear "room under the salary cap in their request to retain the services of other [marquee] players."
This is all a bit odd, because Mobley said after the physical in Dec. 2008, "Getting the MRI basically saved my life." The condition is the same illness that claimed the lives of Reggie Lewis who died in 1993 and Hank Gathers who died in 1990.
The Knicks said this in a statement:
"Although we understand Cuttino Mobley's frustration with the effects of his illness, we are extremely disappointed in his recent actions. When the Knicks obtained Cuttino in November of 2008, the team fully expected him to be our starting shooting guard. It was a significant set-back to our team when we learned he would not be able to play following initial reports from his physical. The team and Cuttino agreed he would then see top experts, including doctors at Tufts Medical Center in Boston and additional experts, for various opinions."
The Knicks acquired Mobley in 2008 in a trade that sent him and Tim Thomas to the Knicks and Zach Randolph and Mardy Collins to the Clippers. The Knicks could've vetoed the deal but chose to keep it because they made it for salary cap reasons in the first place. On April 5, 2010, the New York Knicks announced Mobley's formal release after the league approved their request for luxury tax relief.
Here's what I think: Mobley's trying to make an NBA comeback so therefore in order to get in the game, he needs to get himself a lawsuit. Because that's the only court anyone in the NBA's playing on these days.