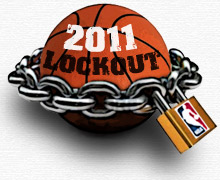 By Matt Moore
The NBPA is dead. Long live the NBPA. But now that the union has disclaimed interest and decided to pursue litigation independently as players and not a union, what does that actually mean? We spoke with labor relations and litigation expert Steve Luckner of Coughlin Duffy to try and make sense of all this dissolving nonsense.
What did the NBPA need to do to dissolve the union by disclaiming interest versus decertifying?
In short, Luckner says, say so. "The primary benefit is speed," Luckner says, "When you have a decertification the players have to vote and it takes place before the NLRB it's a time thing. By disclaiming, they just need to get the player reps to vote to do so, then notify the league." The remnants of the NBPA will also have to file with the Department of Labor and the IRS, but those elements do not have to be completed prior to gaining status as having disclaimed. They said they were disclaiming interest, and there they have.
Avoiding the 45-day waiting period in-between now and an NLRB rulling which would have been necessary for the players under decertification allows them to pursue litigation faster, which is their primary objective. A fast resolution through the courts or the bargaining table is key for this now-non-collective that doesn't have unlimited funds to survive with the loss of paychecks.
What are the impacts of disclaiming interest?
We
touched on the litigation aspect in detail on Tuesday
. But Luckner adds that there are some tertiary elements of the dissolution. The organization formerly known as the NBPA no longer has the abilty to regulate agents, and it cannot file grievances on behalf of players. The assumption with disclaiming is that you intend to do so for as long as you want, but the common thought is that once the lockout ends, the union will reform for precisely these functions. If they were not to do so, they would be unable to file such grievances as their case on behalf of Latrell Sprewell, Ron Artest, or
Gilbert Arenas
. That's not a power the players want to lose, most likely.
SI.com notes
that the agents angle is interesting because player poaching could become an issue in this new wild, wild west the players find themselves in. There's no governing body ruling over player or agent matters, and as such, anything goes.
What's the "sham" argument?
So the NBPA has decertified, washed its hands of itself. It no longer represents the players. And yet Billy Hunter is on the legal team along with David Boies, filing suit on behalf of
Carmelo Anthony
,
Leon Powe
,
Kevin Durant
, and others, all on different teams. Furthermore, every legal expert CBSSports.com has spoken with has regarded this move as a negotiating tactic, with Boies even telling reporters including
Ken Berger of CBSSports.com
that the goal is to settle this in negotiation. At that point, most everyone assumes that just like the NFLPA, the NBPA will reform.
Due to these circumstances, one area the league will attempt to attack the players' litigation is by claiming this is a "sham" disclaimer of interest. In short, they're still acting like a union, they're still planning on being a union, they're just saying they're not a union right now.
There has not been a clear precedent on whether a. intent is a matter to consider when regarding decertification or disclaimer of interest, nor b. whether disclaim of interest/decertification is a "light switch" you can flip on and off. Luckner says it's unlikely the court will argue with the first element.
"I don't see the court necessarily attacking the players' motivation," Luckner says, but he adds "while holding them to the letter of the law."
Holding them to the letter of the law means the union cannot act as a regulator on behalf of the players. They've washed their hands, so they have to be fine if the players get their hands dirty. One possible ramification of the the disclaimer of interest is that players and the league can negotiate independently. Technically speaking, the players or owners could make a deal with the other side, just to sign themselves. That's obviously not going to happen, on either side. But as paychecks dwindle, Luckner notes that players could get desperate to regain their paychecks or in pursuit of playing in their short career window.
The trick here becomes when the National Basketball Trade Association, or whatever loose organization that is coordinating the players' legal efforts attempt to corral those players. In that case, if discovered, the court would hold the liable parties in violation of the disclaimer. In short, if you're going to say you're not a union, you can't act like one. The league's response will be to challenge the disclaimer of interest itself, saying it doesn't matter if the union says it's not a union if it's still acting like a union.
These are just a handful of issues facing the players and the league with this course of action. It's messy, and complicated, and issues and rebuttals and motions will stack on top of each other and take months to sort out. Meanwhile more games are canceled and we continue to wait to see if reason enters anywhere into this conversation.