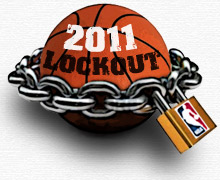 by EOB Staff
It could be a quiet day of deliberation. It could be nothing but fireworks and chaos. From decertification to a player vote to a league response, we'll be watching. Check back here for updates today as the NBA potentially fall down around itself.
On the scene coverage from CBSSports.com's Ken Berger
Monday 12:25 a.m.
NEW YORK -- A wise, level-headed agent has come up with a way for Billy Hunter to step out of the confines of the league's ultimatum and offer some things in order to get some things.
You know, negotiation. What a concept. I share the ideas here, because they're worth considering.
It seems that Hunter is not in a position to come out of today's meeting requesting more movement from the league without providing incentive. Given the way these negotiations have gone -- all in the direction of the owners -- that is far from fair. But it's the reality.
So Hunter can toss this back to the owners and attach the hot-button talking point of "competitive balance" to it. You want competiitive balance? The union should offer a proposal in which the distribution of draft picks is changed to give, say, the five worst teams in a given season an additional first-round pick.
If you're the Kings or the Timberwolves, would you rather have another $2.5 million or so in revenue-sharing money or tax receipts -- money that could be used to sign a veteran role player? Or would you rather have a first-round pick playing on a rookie salary, who could actually make you better and perhaps become a max player someday?
If the leaugue is really interested in competitive balance, this is one way to achieve it.
Riding shotgun with this proposal would be an offer to reduce the rookie scale even MORE than 12 percent. The level-headed agent suggested doubling that redution to 25 percent. By doing so, the escrow could return to the previous level of 8 percent, and the mechanism requiring additional withholding to account for an overage of the players' 50 percent share may not be necessary. In return, players would be eligible for their first post-rookie-deal contract after three years -- instead of being tied to the team that drafted them for five years. Players who develop into stars or valuable rotation players would be paid accordingly, and the stars who deserve it would have access to a max contract earlier.
With these two carrots, the union would then be in a position to insist that the league relax its stance on the so-called B-list issues, and also ask for movement on the A-list issue that is giving them the most trouble -- the sequencing mechanism requiring non-taxpayers to use their Bird exception first, and if it pushes them over the tax, forcing them to lose access to the full-mid-level.
Gotta start somewhere. Again, nobody listens to me or other voices of reason, but these are ideas worth sharing.
Monday 11:45 a.m.
NEW YORK -- So here I am at the players' meeting, and not that it matters -- or that anyone will listen to me -- I have some issues with several deal points the players are apparently vehemently opposed to.
Let's hit them one at a time:
* The 12 percent reduction in rookie scale and minimum deals. The players are calling this an onerous rollback, but there has to be some mechanism to conform with a new 50 percent system, and this is what the two sides came up with -- mainly, in my opinion, because max contracts were off the table for reductions. Reducing the players' salaries from 57 percent of BRI to 50 percent represents a 12 percent reduction. The league already has agreed to phase in certain system elements, such as extend-and-trades and sign-and-trades for tax teams -- for the first two years. But the difference between 57 percent and 50 percent has to come from somewhere. And if max contracts are sacred and there will be no rollbacks of existing contracts, this is the only place left to reduce. My solution, as I've stated several times, would have been modest decreases in max contracts, which would've generated more of a revenue shift than a larger decrease in rookie contracts and minimums would. (This money also could be made up to star players by giving them a larger cut of licensing money.) Also, a 12 percent reduction in rookie wages would mean that the No. 1 overall pick would go down from $4.4 million to $3,.9 million in his rookie season. The 10-year veteran's minimum would go fro $1.4 million to $1.2 million. This is what they're fighting about, folks.
* The escrow. This is the amount withheld from players' paychecks to account for a possible overage in their overall guaranteed percentage. It was 8 percent previously, and a 10 percent withholding has been proposed for the new deal. However, given no rollback of existing contracts, the league has proposed an additional mechanism to account for total salaries exceeding 50 percent -- which is likely in the first two years with no rollbacks. The only alternatives to increasing the escrow to account for this would be 1) rollbacks, or 2) not agreeing to a 50-50 split of BRI.
Latest lockout buzz
Monday 12:15 p.m.
Chris Duhon may have tweeted that the Orlando Magic will accept a deal, but Jason Richardon disagrees. He tweeted: "Read someone tweet saying Orlando Magic players wants 2 accept the deal. It doesn't speak for all of us I dont agree with accepting the deal."

Apparently union officials made players hand over their phones

on the way into the room for the meeting to avoid leaks. Cellphones weren't popular or affordable enough when I was in school back in the 1880's, but I have to imagine that feels a little ridiculous. Then again, the amount of info that filter out during these meetings is also pretty ridiculous. So no "How U" today.
Monday 12:00 p.m.
ESPN continues to stick with its D-League Doomsday report, saying that the league brought up the proposed five-year assignment period and $75,000 pro-rated salary for assignees element all the way back in June, and that it, along with year-round drug testing remain huge hitches in the proposal for the union. The league categorically denied the D-League component as part of the proposal, as did multiple media outlets Friday and over the weekend.
Monday 9:49 a.m.
Yahoo Sports reports that contraction is among the B-list issues still awaiting a deal even if the NBPA were to accept it. Most notably, Yahoo reports that the NBA wants to be able to contract teams without the approval of the union, and upon doing so, to be able to lower the players' revenue share accordingly. So even if the framework on the table gets accepted, things like this could detonate a deal, because the players would pretty much have to make "15 to 60 jobs per year over the next six years" their hill to die on. So that's fun.
Monday 10:50 a.m.
A. Sherrod Blakely brings up a nice case point of where the players are. One player he spoke to wasn't aware of the three-way breakdown of the MLE in the current proposal. These guys have a lot to be educated about in this meeting.
Monday 10:06 a.m.
ESPN's Chris Broussard notes that Kobe Bryant was one of the first to accept 50/50 and he might push others to do the deal. Bryant is the guy to watch. He carries the most with the players and in the absence of another major star besides Carmelo Anthony, there's likely to be a big look to him from the younger players, many of whom are player reps. At the same time, there's a big gap between being OK with 50/50 and being OK with this deal in particular.
Monday 9:37 a.m.
Monday 9:12 a.m.