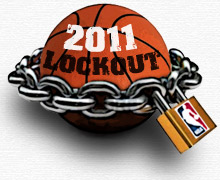 By Matt Moore
There's been a quiet response to all the decertification talk this weekend, and in a fairly embarrassing Twitterview, the NBA presented it front and center Sunday night. The league has given the players a choice between a proposal they obviously find unacceptable, and even worse deal which will be the owners' new starting point for negotiations should the players reject the current offer. In response, the players have pushed even closer to decertification or potentially a disclaim of interest to dissolve the union and pursue antitrust lawsuits against the league. The league has answered every move the players have tried to make. So their response to the threat of decertification?
They will pursue voiding all existing contracts
.
It's not as simple as just saying "your contracts are void,"
there's a legal process
. It involves the suit currently filed by the league against the players which they filed months ago, and even if that didn't go through, they'd file again post-decertification in pursuit of the same goal. It's a complex, and messy situation that could take years to resolve if it came to that. But much like decertification, it works better as a threat than as a legitimate weapon.
If you're a max player, say,
Carlos Boozer
, and you just landed that last big contract to set you up guaranteed for the next four seasons, and the league says it can nullify that contract and set you back, how do you consider the proposal tomorrow as player reps meet in New York? If you're
Joe Johnson
, and you know there's no freaking way you get the deal you got in 2010 in a wide-open free agency, how do you respond? Every player earning more than he probably would in an open market would pause. Yes, you have your
Derrick Rose
's, your Blake Griffins, but there are far more players playing on longer-term contracts with considerable value than there are young players bucking for an open market.
And the threat works both ways for the owners. If you're Donald Sterling, how do you feel about the idea that
Blake Griffin
could be a free agent? Or Clay Bennett with
Kevin Durant
? How about Ted Leonsis and
John Wall
? But still, much like the CBA debate itself, it's not about the stars, it's about the rank and file guys, and those guys would be devasteated financially to lose their current contracts, especially if they also lose the ability to negotiate a guaranteed contract in the next agreement.
It's a hefty threat, the kind of nuclear weapon for the owners that decertification is for the players. Both sides continue to get closer to the button and there appears to be no cooler head to walk things back.