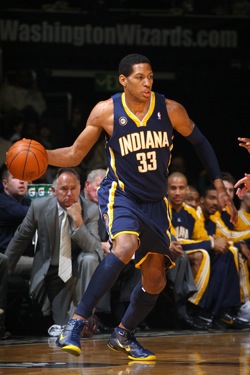 Posted by Royce Young
The NBA made a new offer to the players. And like last time, the union's player representatives will meet and discuss whether or not to take the proposal to the players to vote on.
It's just a matter of if the player reps like it enough to even take it to a vote. One player rep,
Danny Granger
of the
Pacers
, says early feedback on the new proposal isn't all that positive.
Via the Indy Star
:
"Pacers player rep Danny Granger said early indications are that the league's latest offer will be rejected by the NBPA. Granger: 'From what I've seen and heard, the counter offer is the same they presented us a week ago, making a few minor changes that in the big scheme of things that really did nothing to the deal. I would expect that proposal to be rejected after all the players learn more about the deal. The next step I don't know.'"
Well isn't that just lovely.
The players will meet, take one look at this new proposal say in unison "That's it?" and then immediately start voting on decertification. That's the timeline we're looking at.
Here's what the players are banking on: They obviously don't want to lose a season. They obviously don't
want
to reject the new proposal. What they want is to push the league into another round of bargaining where there's a new proposal that's improved. The question is, how many more times will they get that?
At some point, David Stern's threats and ultimatums will become the reality. At some point, it won't be bluffing anymore. Stern's hand will be forced and the owners will indeed reset their proposal. The players are toeing the line of trying to figure out when that will actually be and then run up right to it and thereby, get the best possible deal.
Whatever the case, it's not looking like either of those things are happening soon. Well, maybe the reset, because the players certainly aren't excited about this current deal.