By Matt Moore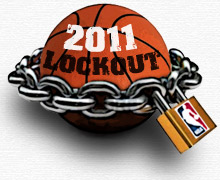 Following the eleven-hour meeting between the NBPA and NBA Thursday, we entered a new phase. The owners have presented an offer they won't describe as their "last, best offer," but with the threat of the "cap reset" offer looming as David Stern says the owners would revert to that proposal without acceptance of the current offer, it's effectively do or die time for the NBA season and the labor negotiations. And during his comments to the press afterwards, David Stern presented details on what the season would look like if the current deal is accepted by the union. From our recap of comments from both sides:
"I would not presume to project or predict what the union will do. I can hope, and my hope is that the events of next week will lead us to a 72-game schedule, starting on December 15."

NBA deputy commissioner Adam Silver said that the 72-game schedule would be made possible by pushing the NBA playoffs back one week.
via
Community - CBSSports.com
.
This little nugget provides three very important elements.
The first is that this is a very concerted effort on the part of Stern to put the onus and pressure back on the union. By dropping this information into the presser, fans will only see the idea of losing just ten games after over a month and a half of lost time. They'll react strongly with the carrot in front of them of a 72-game season. It allows for most of a season, makes ticket holders and league-pass-watchers happy.
Second, it's a carrot for the players as well. They're paid a prorated amount this year depending on how many games are lost. Only losing ten games means quite a bit of money for the players. Those players that are thinking short-term, who are hurting for cash with paychecks lost, are likely to isolate that bit of information as important and it may push them towards voting to accept the deal, if a vote is held.
And finally, it's not a bad plan. It doesn't cram too many games into a limited space, especially with both the playoffs and Finals moved a week back. It gets the fans, players, teams most of the games, it controls the damage from the lockout. It coincides with the most games won in NBA history, and it's a symbol that the two sides are so close to a deal, it's painful.
It's up to the players to decide if it's time to end the fight and accept the loss they've taken in a brutal series of negotiations they were handicapped from the start in, or if the choice is to detonate the remaining 72-games on the table.
As always, we continue to wait.
Today is day 133 of the NBA Lockout.