Posted by Ben Golliver.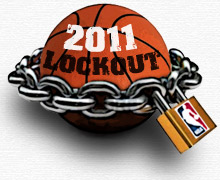 The NBA and the National Basketball Players Association met for nearly eight hours on Thursday in New York City, emerging at 11 p.m. Thursday evening to inform the assembled media that they still have not yet reached a deal on a new collective bargaining agreement.
The day's major news, though, came when NBA commissioner David Stern met with the NBA's labor relations committee and was authorized to make the NBPA a revised offer.
Ken Berger of CBSSports.com reported
that the new offer is not the significantly worse offer featuring a 47 percent BRI share for the NBPA and a flex cap system threatened by Stern last Saturday, but instead is a new, slightly improved proposal based on the last two days of negotiations.
NBPA president
Derek Fisher
said after the meeting adjourned that the league's revised offer was not good enough for the players to accept immediately.
"We have a revised proposal from the NBA," Fisher said. "It does not meet us entirely on the system issues that we felt were extremely important to close this deal out."
Fisher said that the union would confer with its player representatives to determine their next course of action and is hoping to continue negotiations after that process takes place.
"At this point we've decided to end things for now, take a step back," Fisher said. "We'll go back as an executive committee, as a board, and confer with our player reps and additional players over the next few days and then we'll make decisions about what our next steps will be at that point. Obviously, we still would like to continue negotiating and find a way to get a deal done but right now is not that time."
Fisher called it "another long day" of negotiations and admitted that "a litany of issues" still remain unresolved. However, he did acknowledge that the NBA's revised offer was an improvement from its previous offer.
"On a couple of the issues there was some revision, some change since the last proposal that we saw," Fisher said, "but at this time it's not enough to entice us to try to finish this out tonight."
NBPA executive director Billy Hunter said the player representatives would meet on "Monday [or] Tuesday at the latest," but he made it clear that there is still plenty of ground to be covered between the two sides.
"It's not the greatest proposal in the world," Hunter said. "But I owe that, I have an obligation to at least present it to membership."
In addition to the six major economic and system issues -- including the mid-level exception and luxury tax structure -- that have been discussed this week, Hunter said, "another 30 or 40 issues" remain unresolved, including the age limit, player discipline issues, days off for players, and others.
While Fisher and Hunter didn't get into too many specifics of the league's new offer, Berger reports that it includes
a 50/50 split of BRI
, as expected, but does not include significant concessions on system issues. The owners did improve their luxury tax mid-level exception offer by increasing its value $500,000 and extending its length for one year. These are generally considered minor adjustments.
Stern's account of the current situation was virtually identical to that presented by the NBPA, although he provided additional logistical specifics.
"We've had another couple of intense days," Stern said. "We made a revised proposal to the union which attempted to meet their concerns as best as we and the labor relations committee could. We did that in the context of the possibility that we could have a 72-game season starting on December 15."
Stern confirmed the NBPA's stated timeline for the next steps in these talks, saying that he was extending his previous deadline of Wednesday through to next Tuesday.
"We understand that the revised proposal will be presented to the board of the union on Monday, or if travel is difficult, no later than Tuesday," Stern said. "Just as the clock had stopped on Wednesday as we negotiated through to today, it would remain stopped through [Hunter's] meeting with his board. Then, at that time, if we don't get a positive response the revised offer starting at 47 percent and based upon a flex cap would be our revised negotiating position."
He then struck somewhat of a conciliatory tone, thanking the union's executive staff for their efforts and attempting to paint the league's current offer as a compromise between the desired outcomes from both sides.
"We don't expect them to like every aspect of our revised proposal," Stern said of the players. "I would say that there are many teams that don't like every aspect of our revised proposal. But I did tell Billy that that proposal has the support of the chairman of the labor relations committee, Adam, me and the labor relations comittee itself."
The talks between the two sides would be suspended until after the NBPA meets next week, Stern said, because talks would not be fruitful until the players have time to consider the merits of the offer in full.
"It doesn't make any sense to keep going here [because] we have made our revised proposal and we are not planning to make another one," Stern said.
The commissioner, when asked directly, refused to offer a prediction on whether the NBPA would approve of the offer.
"I would not presume to project or predict what the union will do. I can hope, and my hope is that the events of next week will lead us to a 72-game schedule, starting on December 15."
NBA deputy commissioner Adam Silver said that the 72-game schedule would be made possible by pushing the NBA playoffs back one week.
Thursday's talks began at noon and marked the second consecutive day of negotiations between the two sides.
The chatter throughout the day was minimal
, except for
a brief moment of optimism
caused when former New York
Knicks
executive Dave Checketts told a Salt Lake City radio station that he heard an agreement had been reached, before later back-tracking.
The ongoing NBA lockout has now lasted for 133 days.