Posted by Ben Golliver.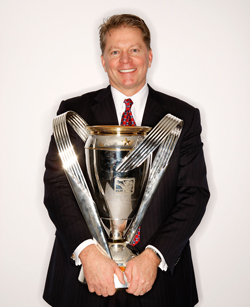 Former New York
Knicks
executive and current Detroit
Pistons
consultant Dave Checketts wanted to be the bearer of good news: he believed that a new NBA labor agreement has been reached and will be announced shortly.
Checketts, who also owns Major League Soccer's Real Salt Lake,
joined the Bill & Spence show on ESPN Radio 700 AM in Salt Lake City
and said that he has heard that the NBA and the National Basketball Players Association have reached a deal on a new collective bargaining agreement.
"The rumblings coming out of both the players side and the owners side are suggesting that there is a deal," Checketts said. "They were together for 11 hours yesterday, they met again this afternoon, I think that they are trying to finish this up. I think this changed pretty dramatically when the owners set a deadline."
Checketts cited multiple sources for his statement.
"I've received a couple of phone calls from friends who are very close to the process who say, 'We have a deal and it's now a matter of getting everything straightened out.' If that is the case, this will be a very big story."
Checketts said an announcement of a deal could come shortly.
"I really believe it will be sometime later tonight that you'll hear some positive things," Checketts said. "In an effort to get both sides talking, I sent complimentary gravy bowls from a K.F.C. here in Manhattan. If that doesn't do it, what possibly could?"
Then, as the 20-minute interview wrapped, Checketts walked it all back.
"Saying this publicly has created quite a stir," he admitted. "I'm being told now by some people that there are some difficulties in the negotiation. I was told earlier today that they had reached a deal. Now I'm getting people reaching out to me, one of whom is involved in the process, who is saying that it's not as close as he thought before. So I guess I have to say, I'm a little more unclear than I was when I started this interview 20 minutes ago where people were saying to me that we had a deal and it was just a matter of ironing things out and an announcement could be made any minute. It looks like perhaps they've taken a step back, it's not as close as I thought, such is the matter when it comes to these negotiations, they go back and forth."
Within an hour,
roughly a dozen major media outlets issued denials
that a deal had been reached, citing sources directly involved in the negotiations.
Last Saturday, NBA commissioner David Stern set a deadline for the NBPA to accept its offer by end of business on Wednesday or the offer would get substantially worse.
"My sense is that may have gotten people moving," Checketts said. "They may have liked their alternatives, including decertification and everything else, less, and I think this is heading in a positive light. Now this certainly could and has in this negotiation over time crashed into a wall, but I get a different feeling about this. I think both sides have come together and are trying very hard to iron out the details and come out unified."
He also noted that he was somewhat surprised by the apparent progress.
"It's happening sooner than I thought it would," Checketts said. "I've been consistent saying there will not be a season. If on November 10th, they're close to a deal and what I'm hearing is correct, my guess is that the owners are getting what they want or we wouldn't be going down this path."
The reality of the NBA takin a popularity hit due to a work stoppage, Checketts believed, is the impetus for a deal now.
"I think probably the players started to feel that they may lose a real grip on their game and it might become certainly less relevant than it has been. I think cooler heads will prevail and I think there's going to be a deal within the next few hours or days."
Prior to his reversal, Checketts said the NBA's regular season could begin as soon as early-December.