Posted by Ben Golliver.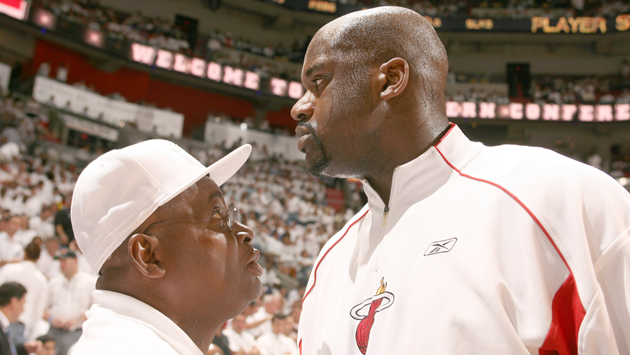 Excerpts of Shaquille O'Neal's new book --
Shaq Uncut
-- have trickled out over the past few weeks in advance of its Nov. 15 release, and the general theme has been O'Neal blasting off on someone, whether that's
Kobe Bryant
(
here
),
LeBron James
(
here
) or
Glen Davis
(
here
).
But Jackie MacMullan, the long-time NBA writer who authored the book with O'Neal, says that O'Neal the aggressor has gotten far more play than O'Neal the victim, a role that figures prominently in his autobiography.
During
an interview on Jason Whitlock's FoxSports.com podcast
, MacMullan described how Phillip Harrison, Shaquille O'Neal's father, a staff sergeant in the United States Army, repeatedly physically abused the NBA legend during his childhood.
"It gets lost in the shuffle because people want to talk about Kobe, Pat Riley, and LeBron and all these other famous people," MacMullan said, "but another fascinating part of this book is his father. 'Sarge,' Phillip Harrison, who, frankly, abused him all the way through his life. Physically abused him, beat the living daylights out of him at every turn."
MacMullan noted that this wasn't simply corporal punishment or spanking, but serious physical abuse.
"We're not talking about spanking," she said. "We're talking about a belt. Beating him badly. Something that disturbed his mother greatly. Of course, Shaq's mom and his dad aren't together any more. I think that's in part why. Sarge was a military guy, that's how his father raised him, and that's how he was going to raise his son. I don't think he thinks there's anything wrong with it still. Shaq understands it, his dad was 'trying to help' him. He believed his dad had the best intentions, so Shaq gives him a pass on it. As a reader, you can't help but go, 'Wow, this is tough, this is over the top.'"
In particular, she retold a story involving O'Neal being punched in the face multiple times by Harrison.
"His father came home from work one night, Shaq is sitting there, he punches Shaq in the face," MacMllan recounted. "Shaq says, 'Well, what's that for?' [Harrison] said, 'We're going to see this guy play basketball. We're going to see him play tonight. He plays in the NBA. You're messing around, you're goofing around, you're not serious about your game. This guy makes $15 million and he can't play at all. And we're going to go see him.' Punches him again and takes him to go see Jon Koncak play basketball and says, 'See, if you applied yourself, you could be in the NBA making $15 million.' You can say that's a good story, it makes my skin go pale, and I'm pretty pale to begin with."
Despite the abuse, MacMullan was careful to note, multiple times, that O'Neal does not bear any ill will towards his father.
"Shaq said, 'He never hit me without cause, if it weren't for him I'd be in prison right now because I was a wise guy, and I did the wrong things, and I was caught up with the wrong kids.'"
Even when directly confronted with the idea that his father had abused him, O'Neal would not express negative thoughts or feelings towards his father.
"I said to him, 'This is abusive, what your dad did to you,'" MacMullan said. "And Shaq said, 'I understand why he did it. I love him. I would never do it to my own kids.' "
Nevertheless, she clearly came away from this portion of O'Neal's story with serious concerns.
"Shaq loves his father and compliments his father all through this book," MacMullan said. "But all I can tell you, is the stories after stories after stories, I think Shaq can see his dad one way, he's so close to him, it's probably the only way he can see it. I think you and I would see it differently."