Posted by Ben Golliver.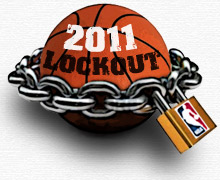 The NBA and the National Basketball Players Association met for roughly 12 hours on Wednesday in New York City -- blowing past a 5 p.m. deadline imposed by commissioner David Stern -- and emerged at 1 a.m. Thursday morning to inform the assembled media that they still have not yet reached a deal on a new collective bargaining agreement.
Ken Berger of CBSSports.com reported
that "no deal" was reached.
"We've agreed that we have stopped the clock and we continue to negotiate," Stern told reporters after the negotiating session concluded. "I would not read into this optimism or pessimism, we're just continuing to negotiate."
Talks will resume on Thursday at noon Eastern, Stern said.
Wednesday's talks, which began at 1 p.m., were the first since Saturday, when Stern imposed his deadline, telling the NBPA that the league's offer would get significantly worse if it was not accepted.
Following an NBPA meeting on Tuesday
, NBPA president
Derek Fisher
signaled a willingness to re-open negotiations and apparently was ready to accept the league's proposal on the all-important revenue split if the owners would include desired changes to system issues in their offer.
Following Wednesday's talks, both the NBA and NBPA addressed the media.
"Nothing was worked out today," Stern said. "We're not failing and we're not succeeding, we're just there."
Asked why the league has not reverted to its threat of a worse offer yet, Stern said it was still a possibility, although it would only occur after the current bargaining session was over.
"It was our understanding going in, at the end of the negotiating session, whether it ends today or it ends tomorrow, that's when our offer reverts," Stern said. "We're trying to demostrate our good faith and I think the union is trying to demonstrate its good faith."
"We've obviously been here for quite some today," Fisher said. "We spent a lot of time covering all of the issues that we still have remaining but we can't say that there was significant progress today, but we're going to meet again tomorrow... to see if we can continue to make the effort to try to finish this out."
Fisher was asked to comment on the NBPA's decision to concede a 50/50 revenue split -- down from the 57 percent the NBPA had in the previous deal -- in hopes that it would lead to the NBA improving its offer on system issues.
"I think what we stated yesterday was an openness and a willingness to come off our number," Fisher said, "and come closer to a deal on the economics and we would be willing to move on a lot of system issues that we expect from them. We never actually said '50/50 and give us the entire system.' What we've continued to say is that if we continue to make economic concessions on the BRI split, in exchange for that there should be more flexibility from the NBA and the league on the system and that continues to be our belief."
NBPA executive director Billy Hunter specifically said that the BRI issue still remains unresolved and that no progress had been made on Wednesday in resolving specific system issues that continue to separate the two sides.
"Not today, no," Hunter said. "We are still discussing those issues along with a litany of other issues. I think that's part of the problem. There are just so many issues that haven't been resolved, it's pretty copious."
The chatter throughout the day on Wednesday
took an optimistic turn.
Berger reported
that there is "growing optimism in the agent and front-office community that a deal will get done. One person briefed on talks [was] 'incredibly optimistic.'" Berger quoted another person familar with the negotiations who said talks were "moving slowly" and that the sides were "trying to get something done," but noted that progress has been "slow" even though there have been "no blow-ups."
The ongoing NBA lockout has now lasted for 132 days.
Here's video of Stern's comments
.
Here's video of Fisher's comments.