Posted by Ben Golliver.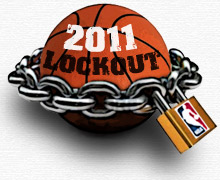 I'm not totally sure everything that's involved in working as a security guard but I do know one thing: calling in bomb threats to your place of employment is not proper procedure.
NJ.com reports
that Jose Quesada, a former security guard at the NBA's offices in Secaucus, N.J., has been given federal prison time for calling in bomb threats to his place of employment.
An Elizabeth man who formerly worked for the NBA in Secaucus was sentenced today to six months in prison and six months of home detention for making several phony bomb threats to the NBA office.

Jose Quesada, 20, pleaded guilty to making several calls to the NBA Properties office on 100 Plaza Davis from his cell phone over a two-day period in July 2010, according to federal officials. Quesada left voicemail messages saying he "put a bomb outside" the office and planned to "kill all the NBA," officials said.
NJ.com reported at the time
of his arrest that Quesada made multiple threats that led to the building's evacuation. The FBI eventually conducted the investigation that brought him to justice.
In one instance, he said, "I put a bomb outside . . . Gonna kill all the NBA. . . . There's a bomb outside the complex in the parking lot. I put a bomb outside in the bush. No way out. Gonna blow up at 9:00 o'clock in the morning. Good luck . . . If you come out, it will blow up. "

As a result, the building was evacuated and police searched the area for hours but no explosives were found, officials said, adding that additional security measures were put in place following the threats.
CliffViewPilot.com reports
that Quesada left at least seven messages in all.
In another, he said: "Leave the building. It's gonna blow up. Leave the building. Nowhere to go. It's gonna go up. It's gonna go 'Boom!' "

Quesada left a threatening voice mail on a Monday morning, five more voice mails in a 16-minute period on Tuesday night and a seventh voice mail on Wednesday afternoon, an FBI complaint says.
Quesada's motive for making the calls is not clear.