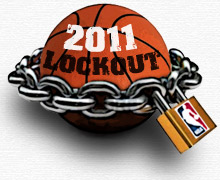 By Matt Moore
Yahoo! Sports reports that David Stern has the support of ownership in aggregate to make concessions on systemic issues in order to secure a deal with the NBPA today and end the lockout. From Yahoo!:
NBA commissioner David Stern has the authority to make minor system alterations to the owners' latest labor offer to the players to try to complete a collective bargaining agreement and end the lockout, ownership sources told Yahoo! Sports.

"There can be a few things tweaked along the edges, the periphery and this can be agreed upon," one ownership source told Yahoo! Sports. "I'm confident that would not be an issue if [Stern] did that.""It will be a very slight budge," one high-ranking management source said.
via
Sources: Stern authorized to tweak offer - NBA - Yahoo! Sports
.
What this means, essentially, is you as fans are being set up for another banana-in-the-tailpipe.
Each time we've had a situation that indicated one side would concede if the other side budged, and the other side was willing to budge, things have blown up. This is how simple this gets:
The two sides are at the one-inch line. The things they're arguing over systemically are non-factors. The sign-and-trade for teams in the tax? It's happened three times according to Ken Berger. The extend-and-trade? That's all based off of Carmelo Anthony. The MLE? It's something teams that elect to be in the tax need in order to improve their teams.
Players needs the owners to concede on those issues which aren't important to the owners. The owners have indicated as above that they're willing to conced at least a little on those.
There is no rational reason for a deal to fall apart.
Therefore, a deal will fall apart.
We've seen this time and time again. Sorry if you're looking for optimism, we're all sold-out here. The two sides have not exhibited rational approaches throughout this process. And the hard-line owners may be out-voted right now, but if the league goes to far with what it offers, they'll regain advantage and detonate a handshake deal. On the other end of it, if the players give up too much and the group lead by
Paul Pierce
react violently, they could decertify and blow up a handshake deal. So even if we get a deal, we may not get a deal.
That's where we're at. There's every reason to think the season will be saved by 5 p.m. today.
So naturally, it's time to abandon all hope, ye who enjoy the NBA.