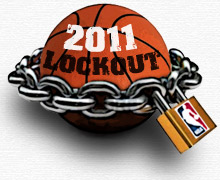 By Matt Moore
After the NBPA met Tuesday afternoon, Billy Hunter and
Derek Fisher
addressed the media. While spinning the tale that the union is united in opposing acceptance of the current proposal offered by the NBA (which, if you track our Buzz post, is not the case at all), Hunter dropped a little bit of a bomb. Hunter said that he heard through "underground" sources that if there is no deal by the league's stated deadline of 5 p.m. Wednesday, the NBA will cancel games through Christmas.
That's right, it's finally here. The NBA lockout is going to steal Christmas.
It's not surprising, considering the ominous tones David Stern has been giving off for the past month. The league has been cancelling in two-week segments, but with Wednesday's deadline signalling a dramatic turn, whether it's the owners moving back to a much harder deal the players obviously won't accept without more lost games, or the union decertifiying in response to such a move, getting a deal by the end of the month would be nearly impossible. What is most alarming is that signals A. what the union has alleged all along, that the NBA is ready, willing, and in some cases eager to lose the entire season, and they're lopping off larger chunks and B. That's the last milestone we'll likely see before the cancellation of the entire 2010-2011 season. Most analysts have predicted that the league would be forced to sacrifice the entire season somewhere between January 1st and January 15th.
So if a deal can't be made Wednesday, it's possible the last batch of games before a complete cancellation will be made, and one of the NBA's biggest batch of games will be lost to a lockout that will have sacrificed two whole months of games.
If you're looking for good news... uh... college basketball started?