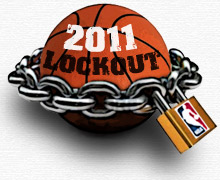 By Matt Moore
Wednesday is the latest Judgment Day in a long history of Judgment Days during this lockout, the day when the NBA's "generous" offer to only knock 7 percent of the player's BRI off eliminating any greater share (after an expenses deduction, I might add), along with widespread systemic changes and the elimination of the sign-and-trade for tax payers expires and their new, stricter, more terrifying offer becomes the new reality. In preparation for that day, the NBPA has four options.
Decertify the union (or disclaim interest, if they want a quicker and riskier route) and file antitrust lawsuits against the owners, initializing a court-based nuclear winter that eliminates at least this season if not next and which will likely fail in court at one of its many risky junctures.
Calmly wait for the deadline to pass and continue negotiating, effectively ignoring the threat. President Kennedy famously used this same tactic in talks with the USSR during the Cuban Missile Crisis.
Try and get the owners back to the table for a negotiation to try and sweeten the deal to a point where it's at least swallowable for the majority of the players.
Vote on the deal as it stands right now and go back to work, effectively caving in order to keep the season and the paychecks that go along with it, sacrificing their profession and pride for their paychecks and the fans.
All in all, not an appetizing menu before them.
But don't worry. The owners are going to make sure that third option isn't one. Because, really, why would the NBA want to negotiate more? They might get a season then! From the
New York Times
:
NBA official says no meeting scheduled with union tomorrow, and none being attempted at the moment. (But things change quickly.)
via
Twitter / @HowardBeckNYT: NBA official says no meeti ...
.
Things do change quickly, but with the NBA owners ready for a scorched earth offer on Wednesday, and with as many owners pushing for a lost season as there are, a meeting doesn't make sense. If the players don't take the deal, they look like the bad guys, and the owners can say they hung themselves. The owner want to keep talks closed because starting Monday, reports started filtering in about
players being open to the 50/50 deal
. Ken Berger of CBSSports.com reports that NBPA officials
will be "open minded" about a vote on the current offer
.
The owners smell blood in the water. So they will resist anything that gives light to the tunnel the players are strapped in. On Tuesday, they'll fight it out amongst themselves, the decertification hard-liners, the weary 50/50 sympathizers, and the Executive Committee in the middle, desperately trying to hold onto a situation they've never had the reins on.