Posted by Ben Golliver.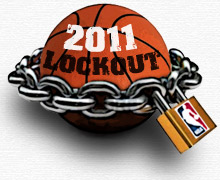 PORTLAND, Ore. -- Basketball games are supposed to provide both joy and despair, but usually there's no difficulty in delineating: Just look at the final score and take a glance at both benches. The body language and facial expressions will tell a familiar story.
Things weren't so cut-and-dry at the University of Portland on Sunday night, and not just because the college's Chiles Center was playing host to a charity game in which tears wouldn't be shed by the winners or losers because the result had no consequence. Instead, every player present -- from 8-figure per year stars to unrestricted free agents, from rookie contract youngsters to a D-Leaguer who has never played a minute in the NBA -- carried both joy and despair.
That's what happens when a for-the-fans charity game sells out, packing thousands of die-hards into a college arena, with an ongoing labor impasse lurking like a thundercloud over the entire proceedings, threatening to wipe out the entire 2011-2012 NBA season and make this charity game the first time, and the last time, that Kevin Durant, LaMarcus Aldridge, Jamal Crawford and others take the court in a city obsessed with professional basketball.
Sunday's game came just 24 hours after NBA commissioner David Stern delivered a nationally-televised ultimatum to the NBA's players: Take the league's offer, which isn't particularly favorable, by Wednesday or prepare to immediately absorb the shock of a significantly worse offer. This, after rumors swirled last week of infighting among the National Basketball Players Association's executive staff and reports surfaced about agents agitating in hopes of decertifying the union. The game itself went off without a hitch, fans left overwhelmingly happy, but the players struck a somber, frustrated tone as they took the court for warm-ups.
"It's sickening," said Durant, who is coming off of his rookie deal and set to earn $13.6 million in 2011-2012. "It's sickening. Us players have sacrificed, gave up money, doing what we have to do. Now it's on the owners. At this point it's starting to get bad. We've done our thing. They're trying to pressure us, back us into a corner and take a deal that's not fair to us."
Durant, the league's scoring champion with guaranteed money coming to him from the Oklahoma City Thunder through 2015-2016, had more license for candor than anyone else in attendance. You didn't have too read too far between the lines, though, to sense a shared frustration among his peers.
"It sucks," said Portland Trail Blazers guard Wesley Matthews, who was signed to a 5-year, full-midlevel deal in the summer of 2010. "It sucks. We're in a bad position, the owners are in a bad position, the fans are in a worse position. Everybody wants to play basketball."
So does that mean he is ready to vote on the league's offer?
"I want to play basketball," Matthews repeated, before admitting that he was dodging the question. "[I know] that's not an answer, that's just what I want to do."

He later apologized directly to NBA fans.

"We are really, really sorry that there's not an NBA season going on right now," Matthews, who stripped off his jersey after the game and gave it to a fan, said. "We want to [play]. We want it more than you guys do. We know that the NBA wouldn't be the NBA without its fans. Just stick with us because we want this just as bad as anybody."
31-year-old free agent guard Jamal Crawford, who could be in line for the last major pay day of his career, wouldn't say whether he was ready to vote or not but did say he felt that rumors of an NBPA leadership rift between executive director Billy Hunter and president Derek Fisher were off-base.
"I don't believe that," Crawford said. "I'm not in every meeting but I don't believe that from what I've seen. This is my third [charity] game and everybody I've talked to is on the same page. I think [Derek] is doing a great job. He goes in there trying to negotiate in good faith and trying to get us the best deal."
Crawford also wouldn't lean one way or the other on the latest hot topic, the decertification of the union which could threaten to blow up the entire 2011-2012 season and take the labor fight to the courts, but Blazers guard Raymond Felton, who is entering the final year of his contract and will be an unrestricted free agent during the summer of 2012, said it's an option that should be considered.
"No question [decertification should be a topic of conversation]," Felton said. "If something doesn't get done, that's something we definitely need to sit down and talk about."
Felton agreed with Crawford that the reported NBPA rifts were a product of the slow pace of negotiations.
"When things aren't getting done, you're going to hear a lot of stuff," he said. "All the guys that I've talked to, everyone just wants us to get the best deal."
Free agent big man Jeff Pendergraph, now fully recovered after missing all of 2010-2011 due to a season-ending knee injury, said the reported rifts might be explained by the looming possibility of further game cancellations.
"It's getting to be crunch time, people are getting nervous," Pendergraph said. "Everything is going to start coming up. Whenever there's head-butting [in negotiations] there will be friction like this."
"I think everybody is anxious to play," added second-year Blazers forward Chris Johnson, a former D-League call-up, set to earn the minimum in 2011-2012. "Everybody wants to play, it's unfortunate what's going on… Hopefully they get a deal done. I feel like Derek Fisher and Billy are doing things for more than themselves, they are doing something for the future. That's why I appreciate what they are doing."
Somewhat ironically, the only player who had absolutely nothing to say on the lockout subject was Los Angeles Lakers guard Steve Blake. It was reported by multiple outlets on Monday that Blake is pushing hard for a vote on the NBA's current deal.
"I have no comments on that," Blake, who signed a 4-year, $16 million deal last summer, said when asked a lockout question on Sunday.
"Nothing?" the reporter replied.
"I have no comments on that," Blake repeated flatly.
With tip off of the charity game approaching, Durant sighed deeply when asked whether he knew when the lockout might finally be resolved.
"I wish I could tell you," he said glumly. "As a union, we gave [up] that money, we went down on the BRI. We have a few system issues we're trying to work out but it's like [the owners are] not helping us at all."
Crawford, as cool a player you'll ever find with the ball in his hands, made it clear that he is starting to feel Stern's deadline pressure.
"They put it out there," he said. "It's going to be Wednesday, or whatever goes after that."