Posted by Ben Golliver.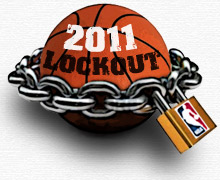 NBA commissioner David Stern told reporters during a Saturday evening news conference that he would be presenting to the National Basketball Players Association with two offers in writing. The first, a more favorable one, would be valid only if agreed to by end of day Wednesday. The second, a less favorable one, would kick in if that deadline passed.
The New York Times reports
that Stern communicated both offers in a letter to NBPA executive director Billy Hunter, ending the communication with an expression of hope that a deal could be reached.
"Rather than simply proceeding, as we could have, to offer a less favorable proposal at this time, the N.B.A. is providing an additional period of time for the players association to consider our 50/50 proposal," Stern wrote. "We are hopeful that the prospect of a less favorable outcome for the players will prompt the players association to realize that the best deal that can be reached is the one the N.B.A. is prepared to make right now."

Stern closes, "Billy, I sincerely hope that we can reach an agreement over the next few days."
The differences in the two offers, the paper reports, are significant in every meaningful way. In addition to roughly a 3 percent drop in its offer of Basketball-Related Income, the new offer would also promise shorter guaranteed contracts, smaller raises, a smaller mid-level exception, a reduced maximum salary figure and a flex cap rather than a strengthened soft cap.
With these details being released publicly, and thus available to every NBA player, it's possible that calls for a vote on the 50/50 offer will increase.
There are reports
that Houston
Rockets
guard
Kevin Martin
is in favor of the league's current offer and that Los Angeles
Lakers
guard
Steve Blake
is agitating to get a deal.