Posted by Ben Golliver.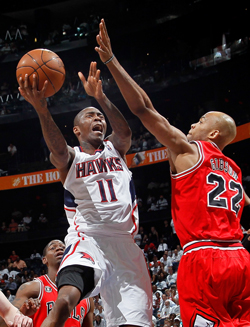 PORTLAND, Ore. -- Portland
Trail Blazers
forward
LaMarcus Aldridge
has been openly recruiting free agent guard
Jamal Crawford
for weeks. On Sunday, Aldridge capped off that recruitment by hosting Crawford's official visit to Portland during the Rip City Basketball Classic charity game, held at the University of Portland's Chiles Center. s
Aldridge's plan had been carefully laid. Two weeks ago, he
urged Blazers fans on Twitter
to make Crawford "feel at home so he will sign with us!" Shortly thereafter, Miami
Heat
forward
LeBron James
began his own recruitment of Crawford, prompting Aldridge to write to James: "How are you going to try and steal Jamal Crawford from us?! I already told Portland to make him feel at home on the 6th."
Later,
he told The Oregonian
that the recruitment wasn't just a social media stunt.
"I would love for him to come play in Portland," Aldridge told the paper. "I put it out there so he knows I'm serious. If he really wants to do that, I wanted him to know I'm behind it."
Aldridge even went so far as to stack the rosters so that Crawford would line up alongside Aldridge and fellow Blazers
Raymond Felton
and
Wesley Matthews
. All that work paid off.
During pre-game warm-ups on Sunday night, Crawford told CBSSports.com that the Blazers' interest in him is mutual.
"Yeah, definitely," Crawford said. "I've been watching the Blazers so long with Brandon [Roy] being one of my best friends. With LaMarcus here, Wes and Ray, it's almost close to a hometown team. I'm from Seattle. It's the closest thing we have to baketball right now."
Crawford, 31, averaged 14.2 points and 3.2 assists for the Atlanta
Hawks
last season and was named the NBA's sixth man in 2010. The Hawks, after dishing out big dollar deals to guard
Joe Johnson
and big man
Al Horford
, and with forward
Josh Smith
on the books for big money already, opted not to offer Crawford an extension.
"I think I would bring a little bit of everything to Portland," Crawford said. "Scoring, creating for other people. Trying to make the game easier for my teammates... I think they're a team on the rise."
That assessment was right in line with Aldridge's thought process.
"He's a really good player," Aldridge told
The Oregonian
. "He doesn't mind coming off the bench. Or starting. He can bring a different dynamic to the team. He's great at pick and rolls; he's a really good shooter. When I get double teamed, it would leave him open in the corner."
Portland's backcourt currently includes Felton, who pencils in as the starting point guard, rookie
Nolan Smith
, who will likely be his backup and Patty Mills and
Armon Johnson
, who are expected to battle for third-string honors. At two guard, Matthews stepped into a starting role last year as Roy underwent dual knee surgeries but Roy promised to fight for his starting spot during exit interviews. It's possible, though, that the Blazers would use the Amnesty Clause to waive Roy. Sophomore
Elliot Williams
, who missed all of the 2010-2011 season after knee surgeries, is also on the roster.
"Starting, coming off the bench, it doesn't really matter to me," Crawford said.
With both Roy and Matthews locked into long-term deals, and with the Blazers stuck in the luxury tax last season, it's difficult to imagine they will have sufficient money to pay Crawford or minutes available to play him if Roy remains on the roster. Despite the roster jam and money drain, Crawford said that he felt that he and Roy could actually play in the same backcourt together, with Crawford defending point guards and Roy defending off guards.
"We've always talked about that," Crawford said. "We play together in the summer all the time, so we've always talked about that."
Aldridge's home team took home a 164-157 win in Sunday night's exhibition, with Crawford throwing down a put-back dunk in the final minute to secure the victory. Crawford finished with 18 points, 10 assists, eight rebounds, a block and a steal. He drew plenty of cheers from the sold out crowd of 5,000 fans. Roy, who was scheduled to play, did not attend the game, and Aldridge said that Roy was absent because he was attending to a family matter.