Posted by Ben Golliver.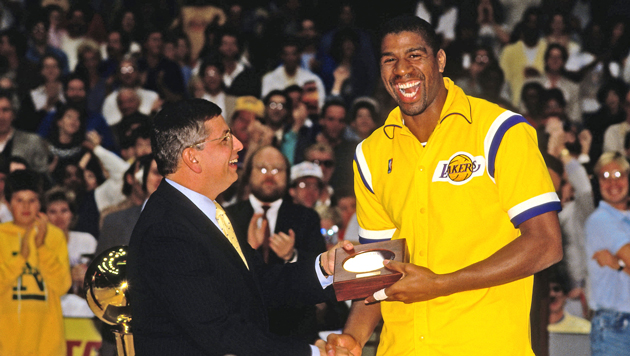 While Monday marks the 20-year anniversary of NBA legend
Magic
Johnson's public announcement that he had contracted HIV, Johnson's impact on the basketball world is now stretching into its fifth decade. Here's a collection of some of the highlights along the way.
1977
A sportswriter in Lansing, Michigan, dubs local star Earvin Johnson "Magic" for his all-around ball-handling brilliance. |
USA Today
1979
Johnson decides to stay home and attend Michigan State University, where he wins a title in his sophomore season.
"It was the 6-foot-8 Johnson who connected time after time with scoring and passing in the second half of Michigan State's 75-64 win over previously unbeaten Indiana State Monday,"
the UPI wrote
. Indiana State was led by long-time rival Larry Bird.
1980
Magic Johnson wins NBA Finals MVP as a Los Angeles
Lakers
rookie after scoring 42 points, grabbing 14 rebounds and dishing seven assists and playing all five positions when center Kareem Abdul-Jabbar went down an ankle injury. The game is in the discussion for greatest clutch performance of NBA history. |
Sports Illustrated
1982, 1985, 1987, 1988
Johnson goes on to lead the Showtime Lakers to four additional championships, establishing the team as the premier franchise of the decade and setting the standard for all future stars, Michael Jordan included, to surpass. Johnson would be named NBA MVP in 1987, 1989 and 1990.
1991
Johnson shocks the entire world by
announcing in a press conference
that he had HIV and that he would retire. Beloved as a person and a sportsman, the nation reacted with shock, compassion and fear.
1991


Johnson married his long-time companion, Cookie.

1992


Along with Jordan and Bird, Johnson led the United States to a Gold Medal at the Barcelona Olympics. The team was dubbed the "Dream Team" and is widely regarded as the greatest collection of basketball talent of all time.
1992
Johnson made an NBA comeback, highlighted by winning
NBA All-Star MVP honors
.
1992


The Lakers retire Johnson's No. 32 jersey. |
LakersWeb.net

1994


Johnson began a brief coaching career with the Lakers.
He finished with a record of 5-11
.

1994


Johnson transitions to the front office, buying an ownership stake in the Lakers and taking the title "Vice President." |
Jet


1995


Johnson began opening movie theatres in urban communities, a venture that would eventually lead to a partnership with Loews. |
NotableBiographies.com

1996


Johnson was named one of the NBA's 50 greatest players.

1998
Johnson struggled through a brief stint as a late-night talk show host. |
New York Times
1998
Johnson begins investing in Starbucks Coffee franchises in "underserved areas." |
Starbucks

2001


Johnson begins a 7-year career as a television commentator for TNT. He now commentates for ESPN. |
ESPN.com

2002


Johson
is inducted
into the Naismith Basketball Hall of Fame.

2003


Johnson's foundation begins a partnership with AIDS Healthcare Clinic that has tested more than 3,000 adults. His foundation has tested, in total, more than 38.000 people. |
Magic Johnson Foundation

2010
Johnson sells his ownership stake in the Lakers. |
CBSSports.com


2011
The Dayton Dragons minor league baseball team, of which Johnson is a part-owner, sets a professional sports record for the most consecutive sell-outs. |
New York Times