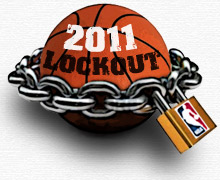 Posted by Royce Young
The campaign to decertify is heating up.
While the league has set a deadline for Wednesday to accept the latest proposal or the offers get worse, the players are trying to hit back with that big nasty d-word.
The whole process is complicated. But it only starts with an initial petition that would allow a vote on decertification. In order to even be allowed to vote on it, there has to be a minimum of around 130 players -- or 30 percent -- sign it. Will they get that far along?
A report from ESPN.com says yes
.
Sources close to the process say leaders of the decertification movement -- with Boston Celtics star Paul Pierce most noticeably at the forefront -- can and will find the required 130-ish players needed to sign a petition to vote on decertification by Monday or Tuesday. And that's when the clock would really start in terms of saving the season … unless you believe that the league is truly prepared to take the villainous step of canceling the season if there's no deal by Wednesday.
The report says the players aim to get around 200 signatures and not just the low number of 130. If the petition passes, only then does the actual process of decertifying happen. Then the National Labor Relations Board has to rule if the vote can even take place. That window though is for 45 days and that's the whole plan for this decertification: The players want those 45 key days of negotiating where the owners actually fear the prospect of decertification. That's where they think they can make up ground.
But understand this: The petition the players are expected to sign this week only means that potentially a decertification vote could take place. And if it ever gets that far, a majority -- some 230 players -- would have to vote to decertify. Would they really do it though? That's the question the players want the owners asking.