Posted by Ben Golliver.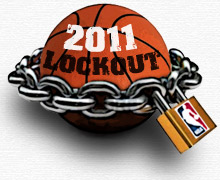 The NBA and the National Basketball Players Association resumed negotiations on a new collective bargaining on Saturday afternoon in New York City -- the first time the sides had met face-to-face in more than a week -- with federal mediator George Cohen once again presiding over the talks.
Ken Berger of CBSSports.com
reported
that talks concluded after more than eight hours with "no deal" being reached. There are currently no further negotiating sessions scheduled between the two sides.
Saturday's session began at roughly 2 p.m. and stretched past 1 a.m. and included all the major players: NBA commissioner David Stern, NBA deputy commissioner Adam Silver, NBPA executive director Billy Hunter and NBPA president
Derek Fisher
.
Following the meetings, NBA commissioner David Stern told a group of assembled media that the two sides had endured a "long day," with Cohen making a list of six recommendations regarding system issues -- including a BRI offer with a 49 percent to 51 percent band for the players, modifications to the mid-level exception, heavier restrictions on luxury tax payers, and others -- and that the NBA adopted five of those six suggestions into their current proposal.
"We told the players we would put those in writing so they could be understood and transparent for both sides and we hoped they would accept it," Stern said. "We would be amenable to making a deal on that basis until Wednesday at the close of business."
After Wednesday's deadline, Stern implied, the owners' proposal would get significantly worse.
"If we are unable to make a deal on those terms by the close of business on Wednesday, we will be making a new proposal, which we will also share very soon with the players in writing," Stern said. "[It] is multi-faceted, but for purposes of this press conference, it would be a 47 percent proposal, a flex cap, and lots of other issues that you have become familiar with. We hope that this juxtaposition [of offers] will cause the union to recess its position and accept the deal."
Stern then noted that the NBPA did not accept the NBA's offer as currently constructed.
"I think it's fair to say that, speaking on behalf of the union, [NBPA lawyer Jeffrey] Kessler rejected the mediator's recommendations and our proposal," Stern said. "But hope springs eternal and we would love to see the union accept the proposal which is now on the table."
Stern said he felt confident and confirmed that he had a "sense" that he could sell the current offer to the majority of his owners needed for ratification.
But, he admitted, the negotiations are starting to wear to him.
"I'm tired," Stern said. "We made the proposal because we hope it will be accepted by Wednesday. I'm not going to make percentage guesses or anything like that. We want our players to play, we want to have a season, these are the terms that we are prepared to gear up and get in as many games as possible."
NBPA president Derek Fisher had a much more solemn take on the day's events.
"Today is another very sad day for our fans, for our arena workers, our parking lot attendants, our vendors, a very frustrating, sad day," Fisher said. "We, for sure, unequivocally made true, good-faith efforts to try and get this deal done tonight. And we're at a loss for why we could not close it out based on the moves that we made towards the NBA and the league in getting this deal done. We made moves that were extremely significant. We made economic moves that were a genuine attempt to try to close the gap between where we were and where the NBA is."
Fisher "respectfully disagreed" with Stern's account of the events, saying that Cohen "never actually proposed any formal ideas or concepts" on Saturday, but that he did lay out "what-ifs" for discussion points. Fisher disputed the characterization of the NBA's BRI proposal, saying that it would be difficult for the players to meet the requirements to achieve the upper compensation end.
He ended his opening remarks by clearly confirming that the players do not find the NBA's current offer acceptable.
"Right now, we've been given the ultimatum and our answer is that's not acceptable to us," Fisher said.
The offer was so undesireable, Fisher said, that the NBPA was not planning to meet to discuss it prior to Wednesday's deadline.
"There's not a deal that we can present to [all the players to] take a vote on," Fisher said. "I cannot say at this point that we would call a general body meeting to take a vote on what has been proposed at this point."
Prior to the conclusion of the negotiating session,
the Washington Post reported
that the two sides were "very close" to reaching a new dal while
ESPN.com reported
that Saturday's meeting was "going very well."
Representatives from all 30 NBA teams also met
in New York on Saturday, prior to the NBA-NBPA negotiations.
Entering Saturday, concern had been raised by a number of developments. First,
reports of a possible rift
between Fisher and Hunter brewed throughout the week. Then,
a group of NBPA consulted with a top antitrust attorney
to receive more information about possibly decertifying the union. Finally, a report surfaced that a group of hard-line owners, led by NBA legend and Charlotte
Bobcats
owner Michael Jordan, felt that
a 50/50 revenue split with the players was too generous
, preferring a 53/47 split for the owners, an offer that would certainly anger the players, who were offering a 52.5/47.5 split in their favor.