Posted by Ben Golliver.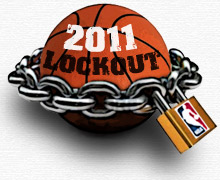 If we weren't so desperate for good news in the ongoing NBA labor negotiations, and if it wasn't such an obvious excuse, the following would qualify as genuinely exciting. But we are desperate, and it is an obvious excuse, so you'll just have to judge for yourself.
Miami
Heat
guard
Mario Chalmers
, who is set to become a free agent, organized a charity game to be played in New Castle, Indiana. Where is that? Who knows. Chalmers, probably, but that's about it. But less than 24 hours before tipoff, organizers sent out a press release saying that the game was canceled because of the NBA lockout.
Due to the uncertainty of the outcome of today's meeting in New York City, many of the professional players scheduled to participate in tomorrow's (Sunday, Nov. 6) "King of the Castle" match-up in New Castle, IN were advised to prepare for the NBA and NBPA reaching an agreement; leading to today's cancellation.

Carlos Knox and Mario Chalmers, organizers of the charity game, issued the following statement: "We hate that we have had to cancel the game and disappoint so many Indiana basketball fans. It is our hope that we will be able to find a way to show our appreciation to Mike Bergum, New Castle Chrysler High School, and the City of New Castle, IN for their support and hospitality."

Carlos Knox, Founder of the Knox Indy Pro Am, added, "We were all excited about coming to New Castle and playing in The Fieldhouse. I hope we will have another opportunity in the future. Maybe during next summer's Pro Am."
Ken Berger of CBSSports.com sends in the following dispatch from New York City.
Despite the tantalizing news release, the spokeswoman for the event told CBSSports.com Saturday night that organizers had no direct information from players or agents that a settlement was imminent in the Saturday night meeting in New York.

"They were all going into it wanting to come to agreement," said Kathryn Jordan of KJ Jordan Consulting. "I wouldn't put a lot of weight on it because guys were being told just to be prepared."

In addition to Mario Chalmers, who helped organize the event, other NBA players who at one time or another were committed to it included John Wall, Brandon Rush, the Morrris twins, Lance Stephenson and Josh McRoberts.
If there's one thing that we've learned during the ongoing NBA lockout, it's that you can blame the ongoing NBA lockout for anything.
If you want to play overseas, blame the lockout. If you want to stop playing overseas, blame the lockout. If you want to slash payroll, blame the lockout. If you want to take a minimum wage job because you're broke, blame the lockout. If you want to go on a world tour, blame the lockout. If you need to cancel a world tour, blame the lockout. Pretty much regardless of the situation that you're in as a player or as an NBA team, you can blame the lockout if things don't go as planned.
The lockout is essentially the worst thing in the world. Everyone agrees about that. Much like politicians blaming the economy or the recession for any decision they make, the lockout is the
perfect
scapegoat for NBA owners and players, regardless of whether progress in the labor negotiations have been made or not. If serious progress is actually made, then no one in New Castle or anywhere else will care that this charity game is canceled. But if progress isn't actually made and this was a cover for a lack of ticket sales or a failure to deliver enough players to the game or whatever other fate might befall a charity game, then the big, bad lockout is just what the doctor ordered.
It's worth noting that charity games starring NBA players are scheduled to take place in Oregon on Sunday and Utah on Monday. Neither of those games has been canceled yet.