Posted by Ben Golliver.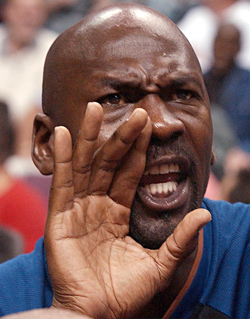 At the same time that NBA legend Michael Jordan is
reportedly leading the way
for his fellow hard-line owners around the league when it comes to the ongoing labor negotiations, he's apparently dealing with some disorder in his own house. The Charlotte
Bobcats
majority owner is reportedly dealing with defections among his minority owner partners.
The New York Daily News reports
that a "big piece" of the Bobcats is for sale.
A minority stake in the Bobcats has recently been put up for sale, the Daily News has learned.

How much of the team is on the market and which partner is looking to get out isn't known, according to sources, although one potential buyer has told business associates that he had been approached about buying "50% of the team.''

However, Jordan is majority owner of the team, which has been losing an estimated $7 million per season in recent years. "Michael isn't going anywhere, but there are other people in his group that want to get out,'' said a source. "There's a big piece for sale.''
The Bobcats were a bottom-10 team in home attendance last season and have made the playoffs just once in their seven years of existence. Jordan slashed payroll in 2011, trading stars
Gerald Wallace
and
Stephen Jackson
, and bringing in new GM Rich Cho to help lead a youth movement that will be centered around, at leat for the time being, 2011 draft picks
Kemba Walker
and
Bismack Biyombo
. In other words, the Bobcats would have had no hope of matching last year's win total of 34 if a full 82-game season had been played this year and currently have zero players on the roster with a legit chance at becoming a full-blown star. They also have the likes of
Corey Maggette
, Boris Diaw,
Tyrus Thomas
and
DeSagana Diop
on the books for fairly big money.
Maybe they should just change the team name to "Charlotte Amnesty BobClauses."
The immediate future is bleak. One or two more years of tanking and some smart drafting by Cho could turn this thing around in a hurry, but that's a tough sell to investors as the team will be bleeding cash and stocking up losses in the standings for the foreseeable future.
No doubt, someone will pony up for the right to be business partners with Jordan, but they will surely know going in that they are paying for that privilege, and possibly nothing more.