By Matt Moore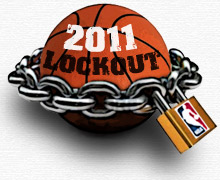 Update 2:49 a.m.:
Two separate lists of players involved in the calls came out late Thursday night.
Yahoo! Sports reported
Blake Griffin
,
DeAndre Jordan
,
Jason Kidd
,
Al Horford
, and
Tyson Chandler
, while
ESPN reported
Dwyane Wade,
Paul Pierce
,
along with
Ray Allen
and
Dwight Howard
. That makes leaders from six different teams, including six current or future All-Stars.
Kobe Bryant
and
Kevin Garnett
have not been formally connected to the talks, but considering Pierce's involvement, it could be assumed they were in support of the movement. That's a lot of players with a lot of pull.
We're in dark waters, here, kids.
Yahoo Sports
and the
New York Times
are reporting that 50 members of the National Basketball Players Association held two separate conference calls this week with an antitrust attorneys to discuss decertification and subsequent lawsuits... without the knowledge of NBPA executive board members.
So, that's fun.
Yahoo reports that meetings were spurred by players,
including multiple All-Stars
, who refuse to go below the 52 percent of Basketball-Related Income already offered in negotiations with the NBA. These players reportedly feel too many
concessions have been made
. This directly contrasts multiple reports and statements from other players indicating that a 51 or 50 percent compromise would be considered reasonable in pursuit of a deal. This new set of reports indicates that not only is the union divided, it is divided bitterly.
A move to decertify is thought to equate to the end of Billy Hunter's tenure as executive director of the NBPA. It would also kickstart a scorched earth policy by taking the sport to the courts, one that could take literally years to resolve. The union would require 30 percent of its membership to sign a petition to raise a vote for decertification, then a simple majority of its membership to formally approve it. In other words, the 50-player contingent would need to bring on over roughly 150 additional players in order to reach that threshold.
The reports come from multiple sources within 48 hours of a scheduled meeting on Saturday between the NBA and NBPA, which raises suspicions of the intent of the purposeful leak. The question is why and to what end.
After talks broke down a week ago, it was predicted that things would get uglier.
They certanly have.