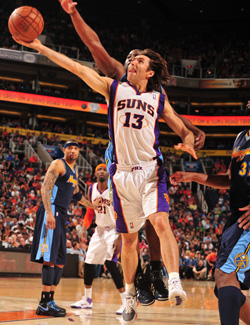 Posted by Royce Young
How do you explain the lockout? Not in terms of Basketball Related Income or a hard salary cap or the luxury tax. How do you
really
describe it to the guy changing your oil or the lady working at the toll booth?
Basically it's this: There's money to be divided and both sides want their cut. No matter how you spin it, that's the heart of the issue. And knowing that one sides makes billions of dollars and the other makes millions of dollars means it's extremely hard for the everyday fan to relate to the issues.
Steve Nash
understands.
Via the Arizona Republic
:
"You have two wealthy sides arguing over percentage points," Nash said. "It's hard for fans to understand that this is a business. I don't blame them. If I were in their shoes, I'd be critical, frustrated or even angry. You just want to see the game you love. Both sides are arguing for inevitably selfish reasons, but also for what's right when they are gone. It's a big mess."
Not just fans that don't get it, but I think a lot of players feel the same way.
Michael Beasley
called it "retarded."
Glen Davis
said to just take 51 percent and move on.
Terrence Williams
said enough is enough. Micky Arison's "barking at the wrong owner" tweet basically indicated that he doesn't get it either. Like Nash said, the whole thing's a mess.
The brass tacks of the dispute is indeed that both sides are being selfish. Greedy even. Players can call owners that, but the reality is, they want to protect their $5.1 million salary and make sure it doesn't drop to, gasp, $4.7 million.
Call it whatever you want, try and disguise it as getting a "fair" deal or just be honest like Nash. Reality is, the whole thing sucks and it's all about money.
Via PBT