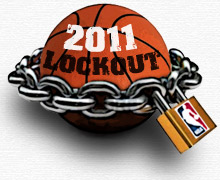 By Matt Moore
From the
Boston Herald
, they're headed back to the table once more:
After breaking off talks last Friday, the NBA and players' union are expected to resume face to face negotiations this Saturday in New York, according to involved sources.

We're still awaiting confirmation from the league office, but sources say the plan is pretty much set.

The sides have been working within their own groups for the most part in these last days, setting their positions and deciding whether they will move from their most recent offers — and, if so, by how much.
via
BostonHerald.com - Blogs:
Celtics
Insider» Blog Archive » League, players to resume talks Saturday.
It will have been one week and a day since labor talks last broke down on Friday. There was speculation the two sides would meeet this week but apparently they couldn't stand the sight of each other after the long talks that went into the wee hours of the morning last week yielded no deal.
The two sides are said to be "95 percent" done
according to the New York Times
but are bitterly divided over the remaining items on the agenda, the largest of which is the split of Basketball-Related Income. The owners have refused to accept less than 50 percent after getting only 43 percent in the previous agreement, while union officials have held firm at 52 percent (after saying they were holding firm at 53 percent... you see where this is going). The union has been rocked by allegations and indications from its members that there is a growing interest in finding a deal at 50 percent, while some members remain decisively behind holding the line at 52.
It's difficult to see how these talks will generate anything positive, but talking is better than not talking, in most cases.
Saturday will be day 128 of the NBA Lockout.