Posted by Ben Golliver.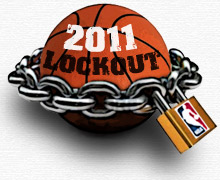 Social networking: it's not just for your teenage daughter and the dork that lives next door any more.
The NBA has opened an official, verified Twitter account --
@NBA_Labor
-- to add their message to the labor discussion during the ongoing lockout. The account's profile promises to provide "Collective Bargaining news and facts directly from the NBA office."
The account currently boasts more than 1,000 followers, even though it has only posted four messages. All four attempt to correct the record on a labor issue, whether it's the amnesty clause, player compensation or the all-important revenue split.
On Wednesday, the account
sent a message
to Detroit
Pistons
forward
Charlie Villanueva
and Oklahoma City
Thunder
center
Nazr Mohammed
to dispute their understanding of the revenue split.
"Owners last proposal was a 50/50 equal split of BRI, the agreed-upon revenue share between the league & players," the message read. The National Basketball Players Association disputes that the owners offered a true 50/50 split because of the deductions taken off prior to the splitting process.
The NBA's official account then retweeted the message to its more than 3 million followers.
Mohammed
replied
: "Don't tweet me during this lockout! Isn't that a fine or something lol?!?! #NBALockout That's hilarious! I can't workout at our team's facilities or have contact with coaches but @NBA_Labor & @NBA can harass me on twitter lol SMH"
Mohammed is referencing the NBA's gag order, which provides NBA players and their teams from having contact during the lockout.
Correcting the record is one thing and a noble goal, but this feels like a heavy-handed and petty approach from the league, especially when no real negotiations are taking place.
NBA players: there is only one way to respond. Hit that block button and lock out the league from your Twitter feeds. Make this a lockout blockout.