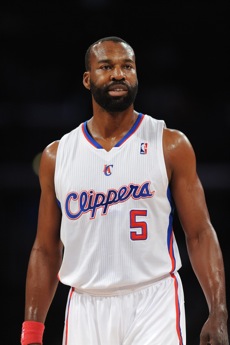 Posted by Royce Young
All this talk about the new amnesty clause in the new collective bargaining agreement tend to ignore one important aspect: The player that gets waived is basically a free agent and can go anywhere he wants.
There are a lot of prime amnesty candidates out there --
Rashard Lewis
,
Gilbert Arenas
,
Marvin Williams
,
Al Harrington
-- but those are also good basketball players that any team would be interested in signing. For example,
Baron Davis
.
The Cavs don't need him. They drafted
Kyrie Irving
No. 1 overall and are eager to turn the team over to him. So obviously they'd like to remove that $27 million they're owed to Davis through 2013 if they could.
But where would Baron go?
According to ESPN.com
, he has three places in mind: the
Lakers
, the
Knicks
and the
Bobcats
.
There was talk
about the
Heat
, but that interest only seems to be one way with Miami looking at Davis.
Davis clearly doesn't want to sit behind a rookie, playing limited minutes. He saw a bit of a resurgence last season alley-ooping
Blake Griffin
and probably see himself with a chance to finish his career strong. He's saying the right things though.
"[I'm] really looking forward to playing with, and mentoring, Kyrie," Davis told the Cleveland Plain Dealer last month. "He's so talented, creative, smart, has so much potential and could become a great cornerstone of the
Cavaliers
' franchise for many years to come. I've been talking to him a lot this summer about NBA life, and in Cleveland, he's going to learn so much from coach [Byron] Scott, who will be a great mentor as well."
The best fit for him really probably would be the Lakers though.
Derek Fisher
doesn't have much time left and Davis' hometown is Los Angeles. It's just a matter of where he's at physically and if he's completely willing to fit in alongside Kobe, which can be a task. But bring in the good Baron Davis to play with Kobe,
Andrew Bynum
,
Lamar Odom
and
Pau Gasol
and you've got some big time firepower.
The Knicks? It would work, but that would be a post-Chauncey Billups solution and I think the Knicks have higher hopes than Davis. Probably not possible given their cap situation, but they'd sure like more. The Bobcats are a fit because they need talent. They did however just draft
Kemba Walker
so Davis would find himself in pretty much the exact same situation he had in Cleveland.
Miami really would be a good landing spot for him, but he'd probably have to take a little less and while a lot of older veterans saw an opportunity with the Heat, Davis doesn't seem like the kind of guy that's willing to just hitch himself to a team in order to chase a ring. He's still got game left and wants to play.