By Matt Moore
Billy Hunter says the union isn't
going an inch below 52 percent of BRI for the players
. The league is saying, and leaking heavily,
that it won't go above 50 percent for the players
. So that pretty much seems to be the end of the conversation.
But it's not. You just have to look around at people around the issues.
Glan Davis posted on Twitter Wednesday: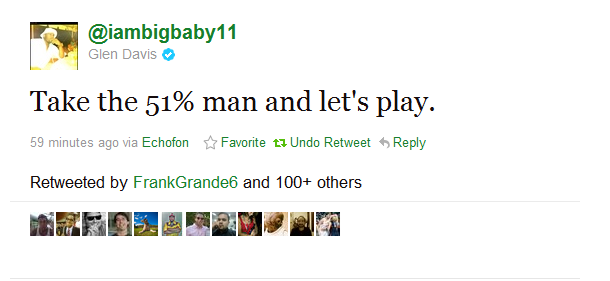 So that's fun. Not sure if that's "Take the 51 percent that we're willing to go to, NBA!" or "Take the 51 percent they're offering, Billy Hunter and
Derek Fisher
!" but it's certainly a player going below the 52 percent mark, which was set after
LeBron James
and other swore not to go below 53 percent.
So why on earth would
Glen Davis
think the owners would go for 51 percent? Oh, how about because Mark Cuban's brother tweeted this in response on Wednesday morning: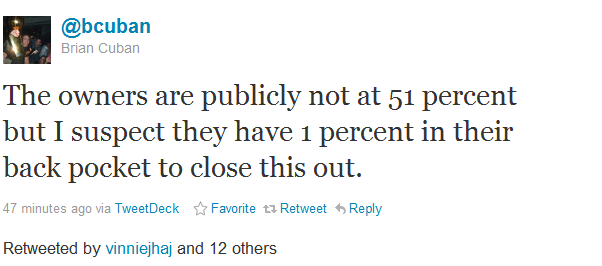 Now, granted, this is coming from the brother of Mark Cuban, who has switched sides in the past few weeks to become one of those pushing for a deal and notably
linked to reports about helping bring the BRI to within range of a deal
. It's a long way from any sort of movement. But if nothing else, the two public comments indicate that there's more movement here than either side is letting on, if they'd just get their egos out of the way.