Posted by Ben Golliver.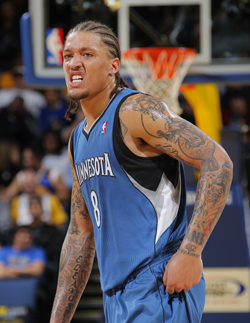 Good news, everyone. We've located a marriage that ended faster than the sham perpetrated by Kim Kardashian and
Kris Humphries
.
Minnesota
Timberwolves
forward
Michael Beasley
and the public relations firm he hired to help him navigate this crazy 21st century media landscape have apparently parted ways just three weeks into their relationship.
Back on Oct. 21, news broke
that Beasley had hired S & S Associates to improve his image. On Wednesday, a representative for the the firm issued a terse statement saying that S & S Associates no longer represented Beasley, who first contracted its services on Oct. 10.
"Please be advised that S&S Associates is no longer affiliated with Michael Beasley," the statement read. "Please refer all inquiries to 'Shooter'."
Shooter's email address was listed as "unknown," although a contact phone number was included.
"We think that Michael is a great kid, and we're wishing the best for him, but he was just not a good fit for our firm," S & S Associates' Tonya Payton told CBSSports.com on Wednesday. "Michael is at the stage in his life and his career where he just needs to take a step back and reevaluate a lot of things in his life."
In the three weeks since he hired the P.R. firm, Beasley threw an "All-Star" charity game in which
all the All-Stars bailed out
and said that the ongoing labor negotiations are "
kind of retarded
." But that was the petty stuff.
The real bombshell came when Beasley
launched explosive lawsuits
against his former agent, Joel Bell, and his former AAU coach, Curtis Malone, in which he and his mother admitted to receiving thousands of dollars of illegal benefits while he was in high school and college. The lawsuit is personal, too, as Malone reportedly
served as a surrogate father to Beasley
, allowing him to live with his family during his high school years.
2011 has been one thing after another for Beasley, who was
busted with marijuana this summer
and famously
shoved a fan in the face
during an exhibition game. Come to think of it: Hiring a P.R. firm was actually a really good idea. Oh well.