Posted by Ben Golliver.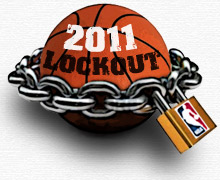 The only thing missing here is a reference to
Scott Templeton
.
National Basketball Players Association president
Derek Fisher
issued a statement on Tuesday night taking direct aim at multiple articles posted on FoxSports.com, formally demanding a retraction and acusing the site of defaming him.
Here's the full statement sent out by Jamie Wior, Fisher's publicist, and obtained by Ken Berger of CBSSports.com.
"The statements made in recent articles on the Fox Sports website are inexcusable. Among the many baseless accusations, to allege that I am working with the league for my personal gain is unequivocally false. The implication that I am doing anything but working in the best interests of the players is disgusting, defamatory and a flat out lie. I have issued a letter through my attorneys demanding a retraction for the libelous and defamatory stories the site and reporter have continued to publish.

Regardless of the media reports, the Players Association, our staff, Executive Director and Executive Committee are unified and working side by side to serve our players.

There should be no more distractions. We must continue to negotiate a fair deal for our players."
The
articles
that Fisher objects to call out both Fisher and Wior by name. They accuse Fisher of being co-opted by Stern during labor negotiations, assert that there is a rift between Fisher and NBPA executive director Billy Hunter, and suggest that the NBPA confronted Fisher about his stances on the all-important revenue split issue. They also call into question the aptitude of both Fisher and Wior.
Earlier Tuesday, NBA commissioner David Stern issued
a denial that he secretly met
with Fisher. Also on Tuesday, Hunter
sent a letter
to the NBPA saying that he had no beef with Fisher. On Monday, Fisher sent a letter to the NBPA
denying a rift with Hunter
.