Posted by Ben Golliver.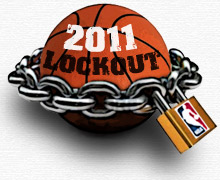 In case you were worried that representatives of the NBA and the National Basketball Players Association were actually meeting face-to-face, NBA commissioner David Stern is here to set the record straight. There were no meetings!
The New York Times reports
that Stern flatly denied meeting with NBPA president
Derek Fisher
, although he was speaking about a reported secret meeting where a "side deal" was allegedly conducted without the consent of NBPA executive director Billy Hunter.
One report said that Fisher secretly met with Stern and the deputy commissioner Adam Silver in an attempt to make a deal.


"That would be false," Stern said.
Fisher also
denied the report
that suggested he met with Stern in a letter sent to the NBPA on Monday. "Usually I wouldn't even dignify absurd media reports with a comment," Fisher's letter read. "But before these reports go any further, let me say on the record to each of you, my loyalty has and always will be with the players... There have been no side agreements, no side negotiations or anything close."
Meanwhile,
Hunter also denied
that there was a rift between himself and Fisher in a letter sent to the NBPA on Tuesday, but also tried to redirect the discussion to the current state of negotiations. "We will not be intimidated by public threats, ultimatums and manufactured drop dead dates," Hunter's letter read. "We will stand firm in our resolve to negotiate a fair deal for our current membership and those who will join our ranks in the future," Hunter said.
Well, we now have denials from all involved parties but are still left without actual discourse on the issues. Labor negotiations broke off last Friday and there are currently no new negotiations scheduled.
At this point, it would actually be more productive if Stern, Silver, Fisher and Hunter all set of a series of secret meetings with each other and then continually leaked the fact that they were meeting to the media. At least they would be meeting!
If there's any upshot here it's that Stern told the
New York Times
multiple times that he's still trying.
"We're trying very hard to get a deal done with the players, or we were, and we don't need any external distractions to that focus."

I believe that a majority of teams are in favor of making the deal that we were offering to the players," Stern said. "And I'm trying very hard to keep that deal on the table."
Just to boil all of this nonsense and hot air down to its core: nothing is being accomplished but they still claim they haven't given up. Fantastic news. Don't keel over in optimistic over-exertion.