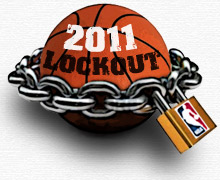 Posted by Royce Young
When labor negotiations fell apart two weeks ago after the two sides met with a federal mediator for a couple days, things didn't look good. Not just for the NBA, but the mediator George Cohen put out a statement that basically sounded like, "Those two are hopeless; I'm out."
But according to Yahoo! Sports, Cohen might be brought back, as early as this week. No meetings are currently scheduled but as we've seen, that can change in an instant.
Cohen left the talks two weeks ago when it became excedingly clear that the two sides just weren't going to be moving. His role was to facilitate the discussion and help locate a common ground. But he walked away when he started seeing just how stubborn and dug in the sides are.
With a new collective bargaining agreement close to done, Cohen could be something that helps push things through though. The hangup is still, as its always been, Basketball Related Income. And with the owners entrenched in their 50 percent or less position and the players dug in to 53 and no less position, something's got to give. And maybe Cohen can help them find that middle ground.
I wouldn't get my hopes too high for it, but it all starts with talking. And if Cohen's what gets them back in a room to do that, that's a minor victory.