Posted by Ben Golliver.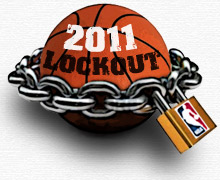 Derek Fisher
grabbed a pen, tooling up to reclaim his corners.
Over the weekend,
a report surfaced
that the National Basketball Players Association leadership team of executive director Billy Hunter and Fisher, the NBPA's president, might not be seeing eye to eye when it comes to recent negotiating positions.
FoxSports.com cited a source who said that Fisher was amenable to a 50/50 revenue split with the NBA in their ongoing labor negotiations, while Hunter was not. The report also noted that there had been some sort of confrontation in which Fisher's allegiance had been questioned by his fellow players.
On Monday, Fisher sent a letter to the NBPA membership assuring them that the report is false and that he and Hunter are on the same page.
ESPN.com obtained a copy of Fisher's letter
.
"Usually I wouldn't even dignify absurd media reports with a comment. But before these reports go any further, let me say on the record to each of you, my loyalty has and always will be with the players.

"Anyone that questions that or doubts that does not know me, my history and what I stand for. And quite frankly, how dare anyone call that into question? The Players Association is united and any reports to the contrary are false. There have been no side agreements, no side negotiations or anything close. We are united in serving you and presenting the best options and getting everyone back to work."
Hunter also
issued a denial of the report on Monday
.
Fisher probably should have just stopped after the first sentence, but he didn't, and the messaging that follows isn't surprising to anyone that's followed this lockout. Solidarity. Loyalty. Service. Honesty. Integrity. United. Etc.
This is not the first correspondence from Fisher to his membership. Earlier in the fall, he
sent a letter critical of agents
who he saw negatively influencing the process,
another one to urge unity
, another one to
launch a social media campaign
, and
he also gave a speech critical
of Washington
Wizards
center
JaVale McGee
after McGee said that some NBA players were "ready to fold."
We've reached the point where there are only two letters from Fisher that anyone -- even those sympathetic to the NBPA's cause -- actually wants to read. The first begins: "I'm happy to announce that we have reached a new collective bargaining agreement." The second begins: "I'm happy to announce my retirement from basketball."
Fisher's response to the charge of disunity came on the same day that NBA commissioner David Stern fined Miami
Heat
owner Micky Arison
$500,000 for comments
made on Twitter that appeared to reveal a fissure in ownership's negotiating positions.