Posted by Ben Golliver.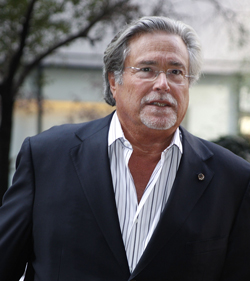 You spoke out against the family. You threw your brothers under the bus. For that, you must pay.
Yahoo Sports reports that NBA commissioner David Stern has fined Miami
Heat
owner Micky Arison $500,000 for violating the NBA's gag order for a series of Twitter messages
he posted on Friday night
. The
Sun-Sentinel
later
confirmed the report
.
The messages were posted on Arison's account -
@MickyArison
- in the hours after labor negotiations between the NBA and the National Basketballl Players Association broke down.
Arison responded to an angry fan who blamed him for being a "greedy pig" by saying that he was "barking at the wrong owner." He also said that owners "care alot" about the NBA's fans and laughed when asked for his opinion of Los Angeles
Clippers
owner Donald Sterling.
Arison, the CEO of Carnival Cruise Lines, deleted a number of messages, including the "barking" one, from his account shortly after posting them.
The Heat's owner was
recently ranked No. 75 on the Forbes 400 richest Americans list
with an estimated net worth of $4.2 billion. After he spent the summer of 2010 assembling a veritable dream team of
Dwyane Wade
,
LeBron James
and
Chris Bosh
, it's no wonder he might want to get the NBA's schedule started sooner rather than later.
The tweets likely drew such a hefty fine because they represented the first real public fissure in ownerships' position. By and large, the NBA's owners have issued very few comments on the state of negotiations and certainly no one had deviated from the league's message as drastically as Arison did.
NBA legend Michael Jordan, currently the owner of the Charlotte
Bobcats
, was reportedly fined $100,000 for his
comments about the lockout in September
. Minnesota
Timberwolves
president David Kahn was also
reportedly fined
for discussing multiple players during the lockout.