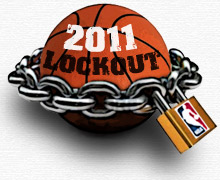 By Matt Moore
There's a reason that David Stern has invested so much in China, why players are constantly doing visits and exhibitions there, why it's the great untapped market for basketball. Lots of people, lots of money because of the resources, and a love of basketball. But with the NBA having killed the first month of its season and maybe more, squandering all of its momentum at the worst time for the Chinese market which is coming off of the retirement of Yao Ming, how is China reacting? The answer? Not well.
From Bloomberg:
On Oct. 24, Guan Weijia, vice-director of the basketball department at Titan Sports, China's leading sports newspaper, wrote a column about the player lockout in the Beijing News titled, "Everybody is a demon." In it, he said that NBA Commissioner David Stern was "the demon of all demons and he is Satan who is the King of demons in this labor dispute." Guan was not much kinder to Billy Hunter, the executive director of the NBA Player's Union, and his role in the fruitless negotiations:

"He is the spokesman of the employees, but he can't work out a shrewd strategy … [he] has already prepared for surrender and the purpose of his of existence is to be played and 'slaughtered' by Stern."

The Beijing News, a newspaper once known for its independence and bold reporting, was recently placed under the control of Beijing's propaganda authorities. Arguably this editorial met with their approval.
via
Basketball-Crazy China Sees Opportunity in NBA Lockout: Adam Minter - Bloomberg
.
"Everybody is a demon."
I kind of want to stop this post right there, because it will not get better or more clear than that.
The piece goes on to intimate that the rest of the country could very well lose interest in the sport since it doesn't translate well culturally or through economic systems. In short, China doesn't understand why the NBA isn't playing basketball.
You're not alone, China.