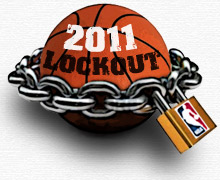 Posted by Royce Young
There's no chance the NBA plays a full 82-game schedule this season. Not happening, so says David Stern.
With the positive momentum towards a deal there was a feeling a second schedule could be produced to save the entire NBA season. And while that's not a possibility now with talks breaking down, there is a shot at still playing 95 percent of a full schedule,
according to the New York Post
:
" ... Multiple sources predict a 78-game slate will be staged if the sides compromise on the revenue split by next weekend. The final schedule has to be an even number, sources said."
That sounds exciting and fun, but it's contingent on one, pretty crucial factor: A new collective bargaining agreement has to be completed by at the very latest next weekend.
How would a 78-game schedule work though? The report explains:
The plan in the revised 82-game scheme were to play a small handful of back-to-back-to-back nights and more four-games-in-four nights, which is done anyway. Stern would have pushed back the end of the regular season to late April and perhaps not stagger as many off days during the playoffs. Also, Stern was willing to schedule a potential Game 7 of The Finals only a few days before the NBA Draft. All that could still take place to squeeze in 78 games.
But November's games are gone. They're canceled. The earliest the league would start is the first of December and while each tough has lost roughly 15 games already, piling in that plan to help grab an extra 11 games could indeed work.
You can put me in the camp though that doesn't really care about trying to squeeze in as many games as possible. Risking injury and extreme fatigue with extended back-to-backs isn't a great idea to me. Extending the season into deeper April works, but I wouldn't push for extra games if they have to be crammed in. You don't want the players and product to suffer just to get an extra 11 games.