Posted by Ben Golliver.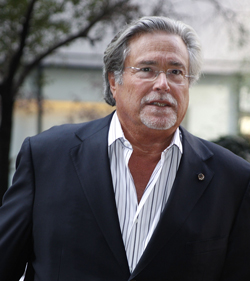 Silence, please. Miami
Heat
owner Micky Arison would like to make an announcement: The buck
does not
stop with Micky Arison.
Hours after negotiations between the NBA and the National Basketball Players Association
broke down
in New York City, Arison,
recently ranked No. 75 on the Forbes 400 richest Americans list
with an estimated net worth of $4.2 billion, took to Twitter to engage in conversation with fans about the state of the talks. NBA owners have been almost uniformly silent during the lockout, adhering to a league-imposed gag order, but Arison opened up on Friday night.
His message: Don't blame me.
An angry fan directed the following mesage at Arison: "How's it feel to be apart of ruining the best game in the world? NBA owners/players don't give a damn about fans.. and guess what? Fans provide all the money you're fighting over.. you greedy a** pigs."
Arison replied: "You are barking at the wrong owner."
Less than an hour after that message was posted, it had been deleted from Arison's account.
But that's not all Arison, who inherited both the Heat and Carnival Cruise Lines from his father, had to say.
When another fan said that NBA owners don't care about fans, Arison
tweeted
, "Wrong, we care a lot."
Asked for his thoughts on Los Angeles
Clippers
owner Donald Sterling, he simply
replied
, "lol."
Certainly, we can all agree to laugh about Donald Sterling. He's a joke.
But, ladies and gentlemen, we've found our NBA owner equivalent of Minnesota
Timberwolves
forward
Michael Beasley
, who recently said that it was
"kind of retarded"
that the NBA and the National Basketball Players Association were fighting over 3 percent of the league's Basketball-Related Income.
Arison's tweets offer a rare peak behind the curtains at the philosophical divide among the owners. While NBA commissioner David Stern and deputy commissioner Adam Silver have tried their best to project a message that the NBA's owners are all on the same page when it comes to issues like revenue sharing, competitive balance and restructuring the Basketball-Related Income split, it's clear that there's at least two camps -- call them haves and have-nots, if you like -- among the owners. This is a point that NBPA executive director Billy Hunter and president
Derek Fisher
have alluded to throughout the negotiating process.
With a veritable dream team assembled and guaranteed sell-outs for the next decade in hand, Arison is clearly a have. But while he might not want to admit it -- or even realize it -- Arison is, in fact, part of the problem. All 30 owners bear responsibility for their collective positions. That's how this thing works.
To point the finger at his fellow owners only makes the negotiation that much more charged. The players, who have already made massive concessions, clearly feel like they have been lied to. The last thing this tenuous process needs is a billionaire throwing his colleagues under the bus in an effort to save face and be "the good guy" on a social network.