Posted by Ben Golliver.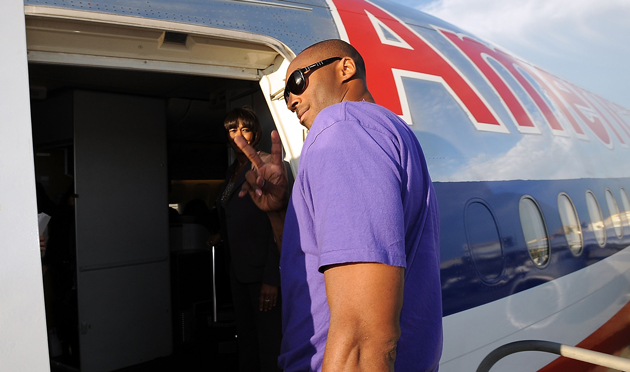 A much-ballyhooed world basketball tour featuring an array of NBA superstars clung to life this week, before ultimately succumbing to a merciful death on Friday afternoon.
Just hours after labor negotiations between the NBA and the National Basketball Players Asssociation
broke down
, multiple reports surfaced that the World All-Star Classic, an exhibition game featuring 14 NBA stars set to be played in Puerto Rico this Sunday, would be cancelled.
Yahoo reported
that this weekend's game was cancelled because "organizer can't deliver players."
ESPN.com reported
that the game in Puerto Rico has been indefinitely postponed.
The Puerto Rico game was all that remained from the hyped World All-Star Tour, a six-game, four-continent tour that was said to include stars like
Kobe Bryant
,
LeBron James
,
Dwyane Wade
and
Kevin Durant
.
On Wednesday
, the tour melted down to a one-game exhibition in Puerto Rico after word surfaced that James,
Carmelo Anthony
and
Chris Paul
had all withdrawn their names from the tour. While Bryant and Durant continued to say that they would be participating in the tour after James and company pulled out, the event apparently couldn't keep it together.
The World All-Star Classic will go down as another eyesore for NBA players, who have run a number of successful charity games during the lockout but have, by and large, failed to monetize their talent. A "Lockout League" held in Las Vegas drew scant crowds, and even the exhibition game circuit has had to deal with last-minute no-shows and scheduling concerns.
This would all be water under the bridge if the NBA and the players had reached a handshake deal on Friday, but that didn't happen. Instead, there will be
no NBA games through the end of November
and only a scattered collection of charity exhibitions to fill the void.
The league's superstars had a real opportunity to showcase their talents internationally and to prove their marketability here. Instead, the lockout continues and fans are forced to continue to cope with a basketball blackout.