Posted by Ben Golliver.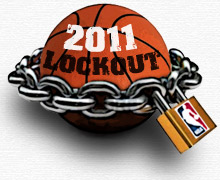 The NBA and the National Basketball Players Assocation met for more than seven hours in New York City on Thursday, one day after the two sides spent 15 hours working to fashion a new collective bargaining agreement. No deal was reached, but there were plenty of smiles and quips to go around.
The talks, which are expected to shift focus from system issues to the split of Basketball-Related Income, will resume on Friday morning. Talks began at 2 p.m. on Thursday and lasted past 9:30 p.m., and included commissioner David Stern, deputy commissioner Adam Silver, NBPA executive director Billy Hunter and NBPA president
Derek Fisher
.
"I think we're within reach, within striking distance of getting a deal," Hunter said. It's just a question of how receptive the NBA is and whether or not they want to do a deal."
Asked if he might reveal some of the deal points, Hunter said he was not yet able to. "I'm hopeful that tomorrow we will be. Commissioner Stern is back there smiling, so I guess that's a good indication."
Stern then shouted out: "Tomorrow."
So, with this jovial mood and evident progress, why didn't talks go deep into the night?
"We've been here all day," Hunter said. "We've made little progress. I think everybody is pretty wiped out after last night. What we've decided to do is recess the process until tomorrow morning at 10:30 a.m. We're going to reconvene and hopefully spend as much time as we possibly need in hopes of getting a deal."
"We're working at it," Fisher said. "It's a tough process. As we move through and try to close the gap in as many places as we can, it gets tougher towards the end. Trying to be respectful to the process, not rush through it, come back later tomorrow."
"We would not have spent the time we spent here today without making some progress," Fisher added, "but as I just stated we are working through so many different issues, and we are trying to close the gap in each issue, as you try and make a move towards getting a deal done, it gets tougher towards the end. We have to continue to grind at it."
The light mood continued, for the most part, when Stern and Silver, addressed the media.
"I can't tell you we resolved anything in such a big way," Stern said, "but there's an element of continuity, familiarity and I would hope trust that would enable us to look forward to tomorrow, where we anticipate there will be some important and additional progress, or not."
Stern was asked whether he had a real and concrete idea of what a deal might look like.
He replied simply: "Yes."
Stern was asked whether he would consider it a failure if a deal is not reached in the next few days.
He replied simply: "Yes."
Both Stern and Silver made it clear that the discussion recently had been centered on system issues but would turn to the BRI split on Friday. The two issues are separate, Silver insisted, and thus not standing in the way of the other being resolved. "One goes to the overall economic health of the league, the second issues goes to competitive and parity," Silver said. "While we need to resolve both issues and both issues are critical, one is not dependent on the other."
Silver also then made a point to clarify that the system issues are not yet totally resolved.
Even so, Stern said that Friday could potentially be the deal-making day.
"There are no guarantees we will get get it done but we will give it one heck of a shot tomorrow," Stern said, "and I think that Billy and the union's negotiators feel the same way. And I know that ours do."
Click here for the latest NBA Lockout Buzz.