Posted by Ben Golliver.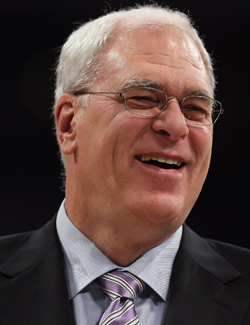 Former Los Angeles
Lakers
coach Phil Jackson has a track record of opening up about his players once he's out the door. Who could forget his 2004 book
The Last Season --
which should have been subtitled
"Kobe Bryant is a Big Meanie" --
in which he was highly critical of his All-Star guard.
Now that he is officially retired, Jackson is once again able to speak candidly about his former teams and players. And, no surprise, the sharp-tongued coach pulls no punches.
ESPNLA.com reports
that Jackson said in a recent interview that the 2010-2011 Lakers, who were swept out of the second round of the Western Conference playoffs by the Dallas
Mavericks
, were undone by their inability to perform in the big playoff moments.
"There is nothing that could have gone worse for a basketball team than the way we finished our season last year," Jackson said when he joined "The Waddle & Silvy Show" on ESPN 1000 in Chicago. "Struggling with New Orleans ... and going into the next round [against Dallas] we needed everyone to start playing well and we just couldn't find that little magical thing that you always hope you have as a coach, the chemistry that makes a team work well."

"To lose an 18-point lead in the first game [against the Mavericks], not being able to outscore your opponent on your home court in the fourth quarter," he said, "to give them life in the very first game of the Dallas series was foreboding what was going to happen to us. We didn't have the ability to play in the clutch like we had in the previous years."
Jackson didn't use the "choke" word but it's certainly there, hovering between the lines. That's one of the heaviest criticisms a respected coach can levy against a veteran, prideful group.
But this assessment winds up seeming tame when you think back to what really happened during the playoffs. Ron Artest clotheslined J.J. Barea in a remarkably dirty play. Then, Andrew Bynum nearly killed J.J. Barea with the dirtiest play of the year. Who could forget
Steve Blake
shooting 2-for-12 from downtown against the Mavericks? Then there was
Lamar Odom
getting wrapped up in a reality show and
Pau Gasol
no-showing for the postseason amidst rumors about his personal life. Bryant was dealing with injuries throughout the postseason so he can be forgiven, but his postseason numbers were way down across the board from the 2010 championship run.
From top to bottom, last year's group melted down in a major way. Certainly, they were bad in the clutch, but they were pretty bad in all facets against the more disciplined and focused Mavericks.
None of this is to say that the talented Lakers are a total lost cause. (Well, Blake is likely a lost cause, but that's beside the point.) But they certainly needed a new voice -- which they got in Mike Brown -- and they need to find a new sense of purpose and motivation coming out of the lockout. A fresh start will do wonders. As will a little chip on the shoulder, which Jackson's comments very well might serve to provide.