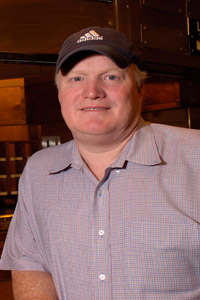 Posted by Royce Young
The NBPA went out and got pretty much the best they could. Kevin Murphy is the players' economist and has been awarded with a MacArthur "genius grant" and is a professor of economics at the University of Chicago.
He's been mum so far in all these negotiations but
gave a rare interview to NBA.com
and pretty much will blow your mind when you read what he has to say. For example:
NBA.com:Management cites rising costs in marketing, ticket sales and other areas.

KM: Ask them to show you how much their costs have gone up as a percentage of BRI [basketball-related income]. Our moving from 57 [percent] to 52.5 covers more than 100 percent of any cost increase they've had.
Again, that's not coming as some spin from Billy Hunter or
Derek Fisher
. That's one of the counrty's most respected economists saying that. That's someone that has a reputation to keep and that isn't going to just blow smoke.
The league though doesn't see it just as "covering losses." The owners want irrefutable profit. Which is why that tricky little 2.5 percent is a big because that's something like $50 million. And that's a big number between guaranteed profit and just having a shot at it.
And take notice of this:
KM: The other thing is, there is some relationship between pay and success but it's not nearly as strong as people think it is. Even if you were to completely equalize pay across teams, there still would be an enormous variation in strength of teams. In a statistical sense, the level of payroll of a team explains somewhere like 5 percent to 10 percent in the variation in outcome

[...]

I did a little experiment. All you have to do is take the overall distribution of win-loss percentages. Let them tell you what they think the relationship between salaries and wins is. They tell you 'This much spending is worth this many wins.' So then you take everybody's salary down to the mean or up to the mean. Then if you tell me you get an extra win for every $3 million you spend, I'm going to give everyone I'm moving up an extra win for each $3 million. Everybody I move down, I'm going to give one fewer win for each $3 million.

The relationship between salaries and the number of wins in a season is positive, but it's pretty weak. It certainly is not going to have a dramatic change in the distribution of outcomes. It might change who the winners are and who the losers are, but you're still going to have some teams that are much better than others. Because some people spend their money much more wisely than others do.
That's it. It's so simple, but it takes a really smart person to say it for it to get through sometimes.
Because some people spend their money much more wisely than others do.
The
Spurs
, the
Thunder
, the
Grizzlies
-- those small market teams have found success in spending wisely.
Not to say spending doesn't work. There's a reason the
Celtics
and
Lakers
have a combined 36 championships. There's a reason the
Mavericks
won the title last year with a payroll ballooning over $90 million. IF you spend, you give yourself a better chance to win despite a dumb front office. That's really the rub there. Instead of having a tactician like Sam Presti or R.C. Buford, you can just pay the next big free agent a bunch of cash and get there that way. Presti has managed the salary cap brilliantly, even taking advantage of other strapped teams to acquire players. That's what Murphy's talking about.
I can't really blockquote a 2,000-word interview, so just go read the entire thing for yourself. Since Kevin Murphy's probably the smartest guy in the room, reading his take will at the very least, make you a bit more intelligent.