Posted by Ben Golliver.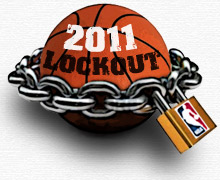 After nearly a week without face-to-face talks, the NBA and the National Basketball Players Association met for more than 15 hours in small groups in New York City on Wednesday. The result: progress made in the discussion of system issues and both sides saying that saving an 82-game regular season is still possible.
The in-person talks were the first since labor negotiations broke down last Thursday afternoon following an NBA Board Of Governors meeting on Thursday morning. Talks began at noon on Wednesday and lasted past 3 a.m. Thursday morning, and included commissioner David Stern, deputy commissioner Adam Silver, NBPA executive director Billy Hunter and NBPA president
Derek Fisher
.
The two sides are scheduled to reconvene at 2 p.m. Eastern on Thursday.
"We were able to work through a number of different issues regarding our system," Fisher said. "We can't say that major progress was made in any way but there was some progress on some of our system issues, obviously enough for us to come back at 2 p.m. tomorrow. We'll continue to work through as long as we possibly can and as hard as we possibly can."
The players would not reveal details about what those system issues might be. "We'll withhold specifics at this point," Fisher said.
The players were then asked whether it was possible to reach firm compromises on system issues if the revenue split issue hasn't been resolved. "It's somewhat difficult," Hunter said. "But we've been trying to negotiate and conduct discussions within the context."
Hunter said talks with deputy commissioner Adam Silver picked back up on Friday and over the weekend so that a deal could be reached with enough time to save a full 82-game season. "If a deal can be achieved between now and Sunday or Monday of next week, I think it's possible. It's going to be somewhat stressful because of the need to do some back-to-backs."
Fisher said playing a full 82-game season "may be slim, but still possible if a deal is reached within the next four or five days."
Stern, making his first public statements in a week, said that it was a "solid day of negotiations."
Stern said the NBA's labor relations committee would have a conference call Thursday morning before negotiations with the NBPA resume. "We did such a good job today, we're going to do it again tomorrow," Stern said. "The energy in the room has been good, the back and forth has been good, and we're looking forward to tomorrow."
Stern confirmed what Hunter and Fisher said: salvaging an 82-game season is still possible, although it might be problematic and a deal needs to get done in the short term.
"I have given them the sense that we will knock ourselves out with them, consistent with what's in the best interests of our fans and our players, in terms of a schedule, to try and schedule as many games as possible," Stern said. "If we can make a deal this week, whether that gets to be 82 games or not, it really depends on so many things that have to be checked. We've got building issues, we've got building issues versus hockey issues, we've got travel schedules, we've got all kinds of things. We've got the sheer volume of games that might have to be compressed, the amount of back-to-backs that players could be asked to play. And really the amount of games that fans could be asked in a given time to attend. These are all considerations that would be on the table and we are going to work on it with the union."
The league would not go so far as to say that it was confident that a deal would be struck in the short term.
"I think it's too early... still in the negotiations to express confidence that we're at a deal," Silver said. "But there's no question, though, that we did make progress on some significant issues. But there are still some very significant issues left."
"This has been a very arduous and difficult day, and productive," Stern added. "Tomorrow is going to be just as arduous and difficult if not more so. We hope it can be as productive... There's no deal on anything unless there's a deal on everything."
Major media outlets mostly reported optimism, with Wednesday's discussions said to have focused exclusively on system issues rather than the revenue split.
The New York Times reported
that the two sides "have moved closer on most system issues",
Yahoo Sports cited three sources
who said that the sides were "making progress on system issues, including [the] luxury tax",
SI.com cited a source
who said that the two sides made "a lot of real progress" with it being "very possible" that an agreement is reached by the end of this week, and
USA Today quoted
an anonymous NBPA team representative who said that there was "lots of optimism" that a deal can finally be reached.
ESPN.com reported
"moderate progress" with "no agreement in sight yet" while
Grantland.com reported
"lots of optimism now" and that a full 82-game season could be salvaged if a deal is reached by this weekend.
Positive vibes were the theme throughout the lengthy day of negotiations.
Ken Berger of CBSSports.com
reported Wednesday morning
that the two sides were "inching closer" towards a deal, and
multiple optimistic reports
broke Wednesday afternoon. By Wednesday evening,
ESPN.com reported
that the two sides were "definitely making progress" and
Yahoo Sports reported
that a source said "there's a deal to be had if everyone shows a little flexibility."