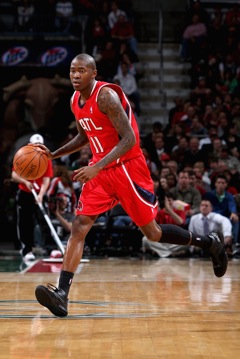 By Matt Moore
LaMarcus Aldridge
was on Twitter Tuesday night, discussing his upcoming charity game. (Everyone gets a charity game this summer/fall. "You get an All-Star charity game! And you get an All-Star charity game!") In the course of it,
Jamal Crawford
came up. Then suddenly, it turned into a discussion of talking Crawford, an unrestricted free agent when the lockout ends, into coming to Portland.
Rip City when @JCrossover come play in my game we need to make him feel at home so he will sign with us!
via
Twitter / @aldridge_12: Rip City when @JCrossover ...
.
Crawford responded positively to the comments on his own Twitter account, and is from Seattle, so he's got a connection to the Northwest. He was also
rumored to be targeted by former Blazers GM Rich Cho last year
in trade talks. So on the surface, this makes a lot of sense. Crawford wants to go somewhere he feels wanted, and Portland would definitely make him feel that way.
Just one problem.
It's a terrible idea. The Blazers have nearly... wait for it...
$90 million
invested in
Brandon Roy
and
Wesley Matthews
over the next four seasons. With
Gerald Wallace
the small forward for their indefinite future (even if he's playing power-forward with LMA at center in smaller lineups, he functions as a small forward), you're looking at pouring quite a bit of money into Crawford, who is coming off of a sensational playoff appearance with Atlanta, and who plays at a position that generally is overpaid in the first place (volume-scorer shooting guard).
Paul Allen is stomping up and down the NBA lockout negotiations because of his desire to curb salaries. But the Blazers' history, from overpaying for Wesley Matthews at the time (a move that worked out and looks reasonable for the duration of his contract, provided his production maintains with more minutes) to granting Brandon Roy the extension despite knowing the condition of his knees, points to a pattern of overpaying for marginal contributions. Crawford is 31. He'll still be a solid contributor at both ends for whoever winds up signing him, but even if Brandon Roy is given the amnesty, which seems unlikely given the franchise's position towards Roy, adding Crawford doesn't add up. And that's before we explore the money likely given to
Greg Oden
in restricted free agency.
Also, note that this is LaMarcus Aldridge, who has historically had an icy relationship with Brandon Roy, actively campaigning for what would essentially be his replacement. Maybe LMA thinks Crawford will play small forward in a small lineup with Wallace at the 4. But that's an awful lot of shots to have to go around should he get his way.