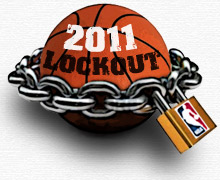 By Matt Moore
When NBA talks broke down last Thursday, the sticking point was the owners' refusal to even hear proposals from the union without a precondition that the union accept a 50/50 Basketball Related Income split. It's like trying to negotiate for a car when the dealer says "we can negotiate anything you want as long as you accept full price first." If that doesn't sound much like a negotiation, then I'd like to welcome you to the 2011 NBA lockout circus. Please check your hats at the door, and be careful, someone will probably steal it by the night's end.
But with
talks resuming Wednesday in New York
around noon eastern, it looks like, and I'm going to bold this for its importance,
for the moment
, the league has backed off the 50/50 precondition. Chris Sheridan of SheridanHoops.com reports:
A source close to the talks tells SheridanHoops.com that the owners have dropped their insistance that players agree to a 50/50 split of revenues.

That precondition is what brought about last Thursday's contentious breakup after the sides had met for more than 30 hours over three days.
via
NBA TALKS TO RESUME WITHOUT PRECONDITIONS.


This opens the way for "outside-the-box" solutions to be offered. The players want to get concessions on either revenue or system. The owner want wins on both. If they can find a middle ground that manages to let both sides believe that, that is to say the league feels like the changes are enough to justify the split they gave up, or the union believes the changes are minimal enough to justify their BRI sacrifice, something could get done today.
It won't, but it's a nice thought. Sorry, we're all out of hope here. Try the corner store down the street.
It should also be noted that the league could also be dancing with the conditions set about in the union's complaint to the NLRB concerning "good faith bargaining." (For more on the elements in play for the union and league in the NLRB process,
check out our podcast this week with an expert in the matter.
) By backing off the 50/50 precondition, then returning to it sporadically, the league can delay the process, forcing the players to miss checks, while keeping the appearance of good faith negotiations. But with the strength of the legal precedent on their side, there's no real need for that. Both sides have expressed a willingness to get a deal done.
Now we'll just see if the moderates can keep everyone else out long enough for progress to be made.
That sound you hear is us not holding our breath.