Posted by Ben Golliver.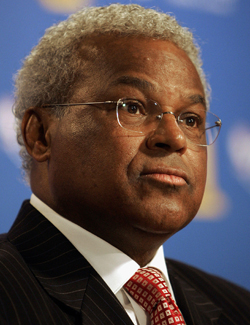 They might stare each other down across the negotiating table, but National Basketball Players Association executive director Billy Hunter has NBA commissioner David Stern's back when it comes to allegations of racism.
Last week
, Emmy-winning commentator Bryant Gumbel referred to Stern as a "modern plantation overseer" and evoked slavery in describing the ongoing NBA lockout in a nationally-televised editorial.
Hunter came to the defense of commissioner Stern on Monday in
a podcast interview with ESPN.com
.
"David is a hard-charger," Hunter said. "David pretty much treats everyone the same. Obviously when you've got the set up that you have, a league that is predominantly black and a group of white owners, it may take on a different color or appearance, but I don't think David is racist at all."
Hunter joined other prominent voices in the NBA community who have stood up for Stern. NBA deputy commissioner Adam Silver recently called Gumbel's editorial "
outrageous
" while television commentator Charles Barkley said the remarks were "
stupid
."
He also expressed surprise that Gumbel's commentary received so much attention. "I didn't think it was going to get any traction," Hunter said. "It was Bryant Gumbel's opinion."
The Rev. Jesse Jackson
said
that Gumbel's "exposed a subtext of tension" and that he "pulled the cover off a very sensitive issue." Hunter, though, made an effort to distance himself from that opinion, stating that Gumbel's accusations didn't advance the discussion.
"It's not healthy," Hunter said. "It's not healthy. It's just the nature of life in America, that's all. People make those assumptions every day. The difference is that we are on Front Street because we're very visible with professional sports, etc. People will make comments and render opinions that move their own agendas."
Asked if he considered Stern a friend, Hunter responded: "We don't socialize. We have a professional relationship, a respectful relationship. I like David. I don't dislike him as a person... The irony is, let me let you in on a secret: David and I are fraternity brothers. I was at Syracuse, he was at Rutgers but we were both members of Sammy -- Sigma Alpha Mu."