Posted by Ben Golliver.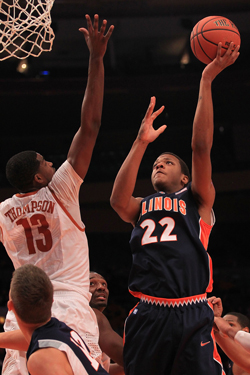 If you're an NBA prospect with an injury history or criminal record, it's said that you have a red flag. Jereme Richmond's red flag is now big enough to cover the entirety of Tiananmen Square.
Richmond, an NBA prospect who left the University of Illinois after one season, was arrested
back in August
after allegedly punching and spitting on his teenage girlfriend and threatening her father with a gun.
If that wasn't bad enough,
the Chicago Tribune reports
that Richmond has just dug himself a little deeper.
Richmond was jailed Friday for allegedly failing a drug test imposed as a condition of his bond.

He allegedly tested positive for marijuana in an Oct. 5 drug test administered by the courts, and on Friday, Judge Theodore Potkonjak raised Richmond's bond from $65,000 to $100,000. He said if Richmond made bail, the teen would be confined to his parents' house except for "genuine training opportunities" that must be confirmed by the court.

Yet in an interview he gave the Tribune two days before his latest run-in with trouble, Richmond, 19, was upbeat, describing his problems as "hiccups" common to many teens. He vowed they would not keep him from his goal of becoming a successful professional basketball player.

"I will be on somebody's roster," he said. "I believe it will happen for me."
The paper notes that Richmond would not comment about his ongoing legal situation but did admit: "No one's untouchable. There are rules to life."
A 6-foot-7 and 210 pound forward, Richmond was a fringe prospect in the 2011 NBA Draft after averaging 7.6 points and 1.8 assists in 31 games for Illinois.
ESPNChicago.com notes
that Richmond was suspended for the team's tournament games due to "an athletic code violation." He was not selected in the 2011 NBA Draft.