Posted by Ben Golliver.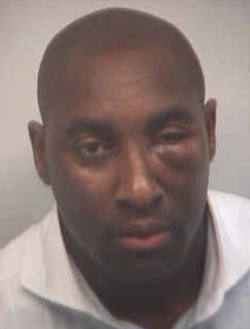 For my next witness, I would like to call the defendant, Mr. Human Highlight Film, to the stand.
Yes, that's right, Atlanta
Hawks
legend Dominique Wilkins is being sued for his involvement in
a fight that broke out
at Phillips Arena back in March.
The Atlanta Journal-Constitution reports
that Rashan Michel, a former NBA referee who was arrested and charged with a misdemeanor, is suing Wilkins over the fight, which allegedly broke out over a debt that Wilkins owed Michel for custom suits.
The man arrested following a fight with Dominique Wilkins says he didn't provoke or threaten the former Hawks star, who then punched him repeatedly with his fists as basketball fans watched.

Wilkins then lied to security guards about the fight, saying that Rashan Michel assaulted him, according to a lawsuit filed in Friday in Fulton County state court.


Witnesses told Atlanta police officers that Michel instigated the altercation. But Michel's arrest mug shot showed Wilkins landed punches -- on his face.
Wilkins was never charged with any crime following the incident and charges against Michel were dropped. The paper also reports that Michel lost his job over the incident.
So, just to be clear, Michel expects a jury to award him money for getting into a fistfight in public for which he was later arrested, Wilkins wasn't, and police witnesses contradict his story. Yeah, good luck with that one.
How often do vengeance-seeking, job-losing citizens win any case against one of the most recognized and heralded people in their community? Not often. How often do they win amidst these shady circumstances? Basically never. Worth a shot? Maybe?
Picture Credit.