By Matt Moore
In short, nearly the worst kind of news. The NBA and NBPA met for another long mediated session Thursday. The result? At around 7:35 EST Adam Silver and Peter Holt held a press conference to announce that talks have broken down and no further meetings are scheduled.
Silver would not confirm any further cancelations of games, but the mood is extremely grim.
Silver did confirm that the issue that lead to the breakdown between the owners and union was back to BRI. There had been a significant amount of talk about the issues being systemic issues, particularly the luxury tax and revenue sharing. Silver revealed that the union had lowered its offer to 52.5 percent of BRI, with the owners holding the line at 50/50, still.
Ken Berger reported Monday that
the owners' 50/50 offer was back to a 49-51 range
. The question is whether the concessions made in the systemic issues pushed the players back to a flat 50/50. Silver also said that the two sides were "far apart" on systemic issues.
Silver told reporters that the players in essence wanted a trade-off. In essence, if the players were conceding on BRI, they wanted more from the systemic issues.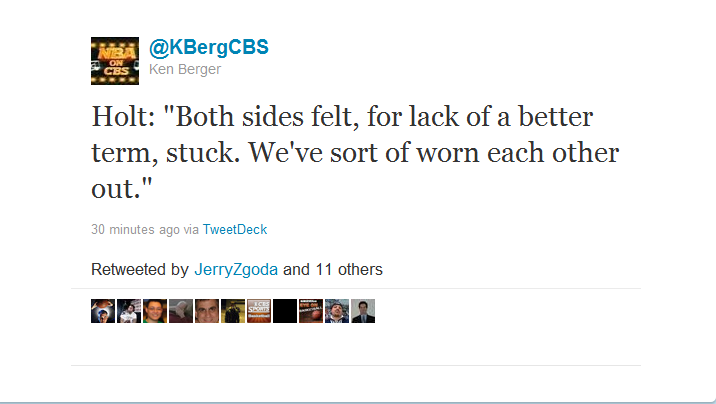 Spurs
owner Peter Holt said that at this point, both sides felt "stuck" and that both sides had been "negotiating a long time." Holt said that one reason for the talks to end was due to fatigue, saying "both sides have been negotiating for a long time."
With the gap down to 1.5 percent, $100 million as estimated by CBSSports.com's Ken Berger for the 2010-2011, you would think that splitting the difference now more than ever would be a likelihood, particularly with mediation from George Cohen. But Silver revealed that the NBA is looking for a 10-year deal, which would make the 1.5 differential $1 billion. Silver and Holt both reiterated that 50 percent is the absolute figure they're willing to go "today" in the words of Holt.